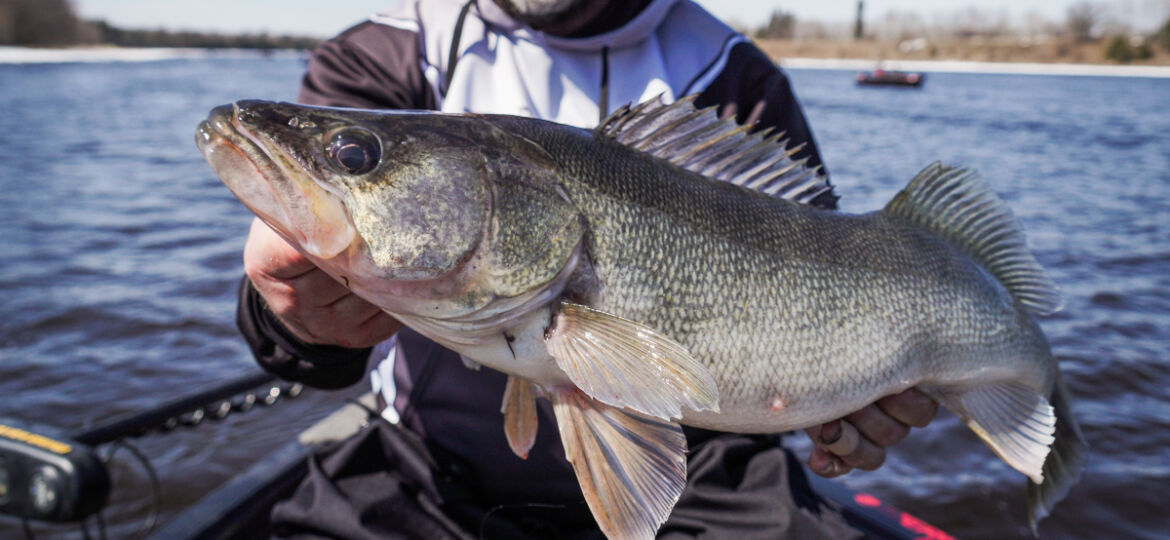 RAINY RIVER, YOUR FIRST CHANCE AT OPEN WATER WALLEYE
Long before the inland lakes of Minnesota are free from ice, moving water draws thousands of anglers back into their boats for a chance at some border walleye. Every spring, the historic Rainy River sheds its winter coat and gives anglers the freedom to fish open water once again. Thousands upon thousands of walleye leave Lake of the Woods and head upstream towards International Falls to complete their annual spawning run. And no rain, snow or sleet will stop some of the die-hard walleye anglers from dropping their jigs into the icy water in hopes of catching a giant walleye.
WHERE IS IT?
The Rainy River spans from Lake of the Woods (north of Baudette, MN) all the way to Rainy Lake in International Falls, MN. The water flows from Rainy Lake into Lake of the Woods so the eager anglers know that if you want to be the first ones on the river then its best to head east at first. There are about a dozen landings covering this 90 mile stretch of river but not all landings are suitable for bigger boats. Additionally some parts of the river are shallow and rocky with natural dam areas making navigation more than tricky. Better than ninety percent of the anglers will launch their boats between Wheelers point and the Nelson Park (Birchdale) access. The most popular boat accesses are Vidas, Frontier and Birchdale. This portion of the Rainy River is deeper making it very easy to navigate and also to fish.
WHEN TO GO?
After a long winter many anglers get itchy to get back in the boat as soon as they can. This open water, open walleye season allows anglers to do that with a really great chance at catching dozens of walleye. While the walleye season is closed for the rest of the state this catch and release season is open from March 1st through April 14th. Open water obviously depends on Mother Nature but it is usually pretty predictable to be ice free during this time period.

HOW DO YOU FISH THERE?
The beautiful part of fishing on the Rainy River this time of the year is that it is really simple fishing. You do not have to be an expert to catch fish. You don't have to be in-tune with the latest and greatest spinner setup, lindy rig or crankbait. Simply thread a minnow on a suitable sized jig and bounce it near the bottom. The water is still really cold so the fish are all bottom oriented. So if your jig is close to the bottom then you are in the strike zone.
If you are not so serious about setting the hook as much as you can and you are more about just getting out on the water for some fresh air with your buddies then just float the river. The majority of boats out there simply do this. They drive the boat up river to a spot and then just float down stream until they feel like making a move upstream again. And you know what, because there are so many fish swimming upstream during this time of the year you actually will catch fish. When you run across a pod of fish "doubles" will be common in the boat. Simply keep your jig near bottom with an occasional short lift of your rod tip. Remember that the fish will be close to the bottom so be sure that you keep it near there.

THINGS TO BE AWARE OF
The Rainy River is an international border water with Canada. The northern half of the river is considered Canadian water so if you don't have the proper permission and license to fish there you could find yourself in trouble.
As with many things in life, some things can play spoiler to this early season fish catching session. As the season wanes on and the weather continues to get warmer, a lot of the smaller tributaries on the Rainy River will start to flow as well. When these do, it tends to muddy up the water and also release extra debris. Now the debris can certainly be a navigational hazard while on plane but the real deal is the muddy water makes it much harder for the walleye to see your bait. So consequently the bite slows down for the majority of the anglers.

HOW TO IMPROVE YOUR ODDS
Bright colored jigs and bright colored soft-plastics will help you out in this situation. Anything you can do to help the fish see the presentation will pay dividends. Additionally it helps to have a plan and a strategy on how you approach the water.
You can keep your jig in front of the fish longer by backtrolling against the current. This also allows you to keep your jig close to a certain area near bottom, such as a hard bottom area or a change in depth. Whereas drifting with the current you just blow through the area and the fish have to react much quicker to the jig. Anchoring and casting into pinch or neck down areas is another way to improve your odds. Groups of fish will be constantly making their way up river so eventually they will be swimming through.

Another great thing to do is utilize your MX7-GPS on the boat by picking up the summer transducer for it. The better you understand your electronics the better angler you become and by using it all year long it will help you achieve that. Furthermore, the MX7-GPS accepts Navionics SD cards for enhanced mapping. The Navionics plus and Platinum plus U.S. North cards will give you detailed mapping of the Rainy River. Use this tool to attack the river with a plan. Don't just float along aimlessly down the river hoping to land your jig right in front of a hungry walleye. Do a little research and use the mapping tool to find adequate depth areas, pinch points and current break areas.
Put in a little bit more effort and you might suffer from a sore shoulder from all the extra hook-sets. As always, be careful as the water is still ice cold. Dress appropriately and be sure to wear your life jacket.