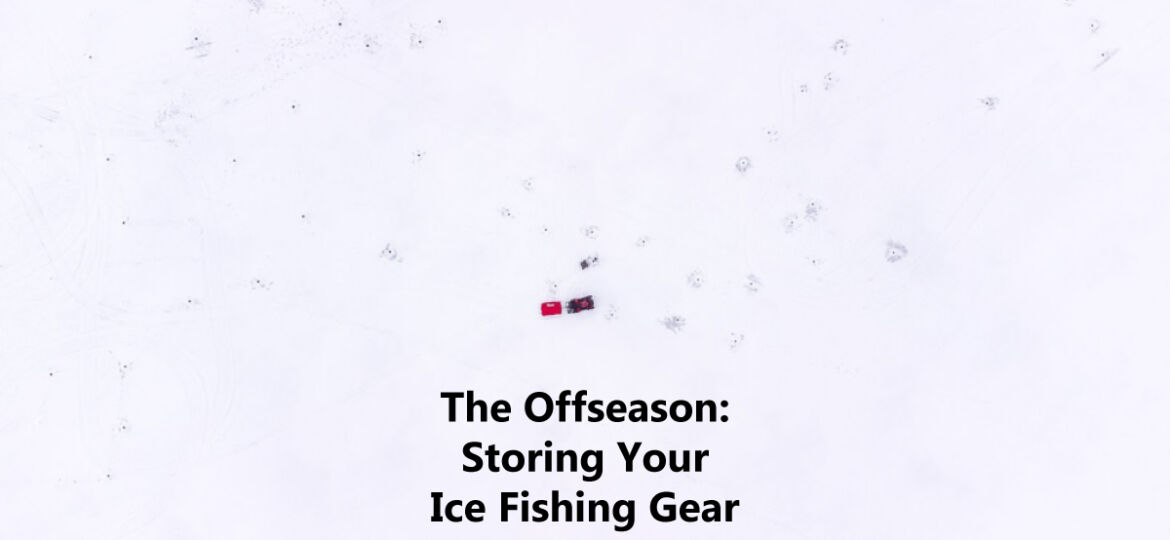 The Offseason: Storing Your Ice Fishing Gear
Whether you're ready for it or not, the ice season is coming to an end sooner than later. For many of us anglers, it was an odd season riddled with less-than-ideal conditions – including lack of ice and excess amounts of snow and ice. With snow melt in full force and deteriorating ice conditions, we can't help but think of what's coming next.
The angling community as a whole puts a lot of emphasis on what's up next – how to prepare, what things to get ready, where to start – but we often just gloss over how to properly care for and store our current season's gear. In some instances, there's equipment that gets uses year-round, but much of our ice fishing gear only gets used for ice fishing. Caring for and storing this equipment properly will ensure it's ready for next season when you pull it out of storage and that it lasts for years to come.
The list below is a great guideline for properly maintaining and storing your ice fishing gear.
Electronics
For many of us, ice fishing without electronics just doesn't feel right. If you want to ensure things are in working order for next season, then be sure to store them properly. A simple wipe down of everything is always a good first step. Clean up screens, transducers, cables and so forth. Without a doubt the best place to store your electronics is indoors.
On the battery side of things, storage advice really depends on the battery type. Lead acid batteries should be stored with a full charge and should be recharged throughout the offseason. Lithium-Ion batteries should be stored above 70% capacity, while Lithium Iron Phosphate (LiFePO4) batteries can be stored with a minimum capacity of 30-50%. Regardless of battery type, it's good practice to charge batteries prior to storage and plan to recharge (or at least check them) every couple of months.
Quick Reference Guide for MarCum Electronics by Battery Type:
While you may want to store other ice fishing electronics, underwater cameras come in extremely handy during the open water season. If you want to learn more about using your underwater camera throughout the open water season, this blog is full of good advice.
If you have anything that needs service, now is the perfect time to send them in. If you need to file a claim, whether it's under warranty or not, go to marcumtech.com.
For more in-depth details about off-season storage of your electronics, give this blog a read.

Tackle
Tackle care is an easy one for many anglers to completely disregard. We often expect that our tackle is in fine order, but in all reality it usually isn't. We've all been guilty of tossing lures in random boxes during the hustle and bustle of a hot bite.
At the end of the ice season, it's good practice to go through your lures and make sure they all have a 'home'. Give your tackle an opportunity to air out for a few days to prevent any rust from building up in a box that'll stay closed up for the next six months. It doesn't hurt to start making a list of lures you want to replace or maybe some new ones you want to pick up. The end of the season is a great time to save a few bucks as retailers are looking to make room for their open water products.
Rods & Reels
Beyond tackle, some of the most overlooked items by ice anglers are their rods and reels. You invest good money in these things, why not take care of them? The first step to care is to simply give everything a good wipe down.
Beyond a little cleaning, it's good practice to remove line from reels. It'll save you a lot of time next Fall when you're getting things ready for ice. Backing off the tension on your reels will ensure longevity of the drag systems. This is also a great opportunity to grease or oil up all your reels for next season.
On the storage side of things, plan to put your rods back in the case. An easy way to ruin a day is with a broken rod.

Augers
No matter what type of auger you have, it's a good idea to complete some simple maintenance before putting into storage. For battery operated augers, it's important to make sure your batteries are charged prior to storing. Be sure to check the batteries every couple of months and charge again as needed.
On the gas side of things, a little more care is necessary. Add fuel stabilizer and fresh fuel to your tank and run it for a bit. It's a good idea to run the auger for a few minutes every month or so, to ensure things are running properly. If you leave a fuel in the tank, open the fuel cap to prevent pressure from building in the tank and causing other issues.
Outerwear
If you're an angler that fishes year-round, there's a decent chance you might use some of your winter outwear during the first month or so of the open water season. However, if you don't plan to use them then now is the time to care for them. Important: wash and dry your outerwear per the directions on the tags. Neglecting this can make a big difference in the longevity of your gear. No matter how you store your gear, one of the biggest factors is ensuring they are completely dry before going into storage. If you keep them in outside storage, invest in an airtight tote and add a few fabric softener sheets to help prevent mice or other rodents from calling them home in the offseason.
Ice Houses
With temperatures as warm as they typically are this time of year, you probably haven't used your shack in a few weeks. Take advantage of the next sunny day and set your fish house up outside. Similar to outerwear, it's very important to avoid storing your shack until it's completely dry. A wet fish house with surely be the source of mold or mildew during the offseason. This is also a good time to wipe things down and to take note of anything that'll need repair or replacement before next season.
Regardless of where you plan to store your shack, invest in some fabric softener sheets and fill your house with them. Your shack may smell like a laundromat for a few days next season, but it's a fantastic way to prevent mice or rodents from accessing them.
Machines
If you rely on a snowmobile, there's a good chance it'll go into storage until next season. If a wheeled vehicle is more your style, then you may end up using it outside of ice fishing. Regardless of your on-the-ice transportation, now is the perfect time to do all the required maintenance. Like all your other gear, one of the best things to do for your equipment is to clean it. Salt from roads or accesses can wreak havoc on machines if left for too long.
Additionally, this is a perfect opportunity to change oils, filters, add grease, and make sure no additional repairs are needed. You know you'll want your machine in tip top shape for next season, and a little preventative maintenance can go a long way.
Proper care and maintenance of your gear will help ensure your next ice season starts off a good note. There's nothing worse than spending that valuable fishing time repairing things or looking for a replacement. We're all guilty of neglecting things from time to time, but remember a little TLC can go a long way.