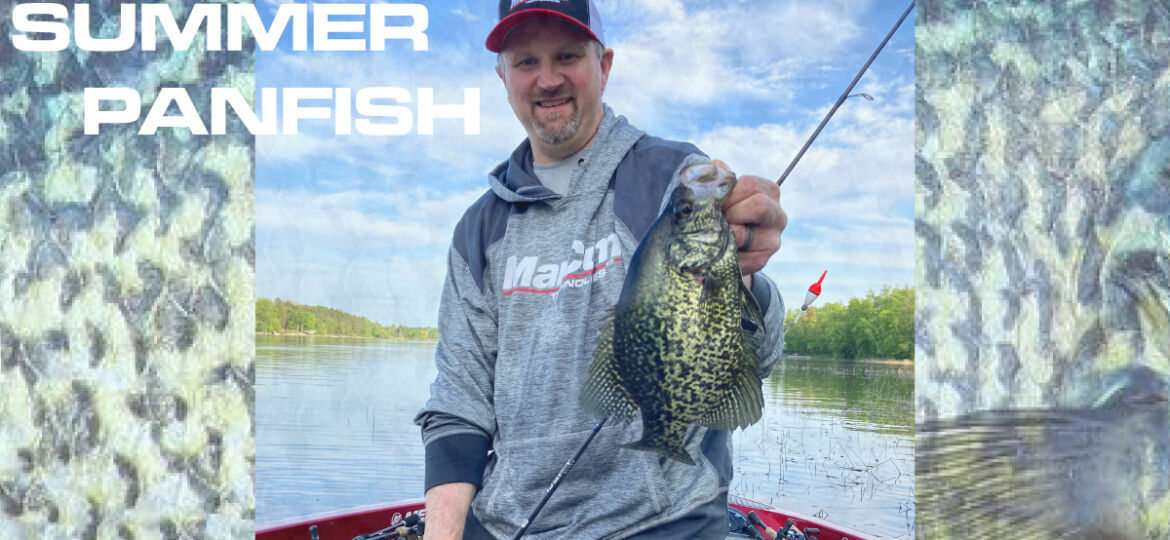 Get To the Edge for Summer Panfish
Panfish, specifically bluegill and crappie, are the most sought after fish throughout the entire United States. Anglers of all ages pursue them for a lot of reasons. They are good to eat, plentiful, and seem to always be willing to bite throughout the entire year. Walleye and bass anglers can get skunked on any given day but a panfish angler seldom fails to connect in an outing on the water.
This makes them a perfect species to pursue anytime you have the family and or kids on the water. The great thing about summer is that it can be really easy fishing. By mid-summer the fish have completed their annual spawning and have transitioned out to where they will spend the summer months.
Weeds and weed beds have reached their full potential and many of them will be full right out to the edge of deeper water. These areas can be hotspots as bluegill and crappie will relate to these deeper weed edges. Drop an underwater camera, such as the Pursuit HDL Pocket Camera down along the edge of a weedline and you will see for yourself. It will always be full of life during the summer months.
Even though crappie do spend much of the year suspending in the open, during the summer they will be in or adjacent to deeper cover. A great way to target them is with a slip-float or bobber setup with a crappie minnow or some sort of soft-plastic offering.
Either option offers a perfect morsel for a hungry fish. Bigger fish fall for bigger profiles so opt to use a fathead minnow or a larger crappie minnow on a jig.
Oftentimes, bluegill will be close to the crappie. Bluegill are generally more plentiful and more willing to bite throughout the day, whereas crappie can really bite better early morning and evening. Small leeches are really tough to beat for bluegill but you can use worms as well. Be warned, when you land on a healthy school you can use up a lot of bait in a short order.
The competitiveness of a school of bluegill can be unreal. When you are fishing with others, someone can opt to use artificial jig and soft-plastics such as a VMC Wax Tail Jig. These thinner profile baits will work well for both crappie and bluegill.
Where Do Fish and Cast
Target your casts near to the edge of weed cover but in the clean deeper water. Oftentimes the fish will suspend amongst the vegetation and then dart out of the cover to ambush the minnow or leech.
Try to target and set your bobber depth to be about mid-way down in the water column. This will be a great starting point and you can adjust from there. If you find that you are catching only smaller bluegill then adjust your depth deeper because Oftentimes the really big bluegill will hang out slightly deeper than the bulk of the school.
Mobile School
When you find a good school of panfish, you can actually pull the fish away from the cover. It is very common to first catch a fish near cover and then have them all around the boat. When this happens, you literally can catch fish after fish right alongside the boat.
What Equipment Should I Use
For panfish, it is always better to use light line and light rods. It not only makes the experience better but it also helps with casting, setting the hook and fighting the fish. Crappie are commonly referred to as "paper-mouths" because of their super thin membrane around the mouth.
Strong hook-sets can literally tear the hook right out of their mouths. Ultra-light rods help dampen the process and help you land more fish. Three or four pound test line is ideal for using slip-bobbers or casting small jigs.
Next time you are in the mood to catch a bunch of fish, be sure to get to the edge of a main lake weedline. When the fish are there it doesn't take long for them to show themselves. So keep moving until you encounter the school.