THE BEST UNITS ON ICE JUST GOT BETTER,
FOR LESS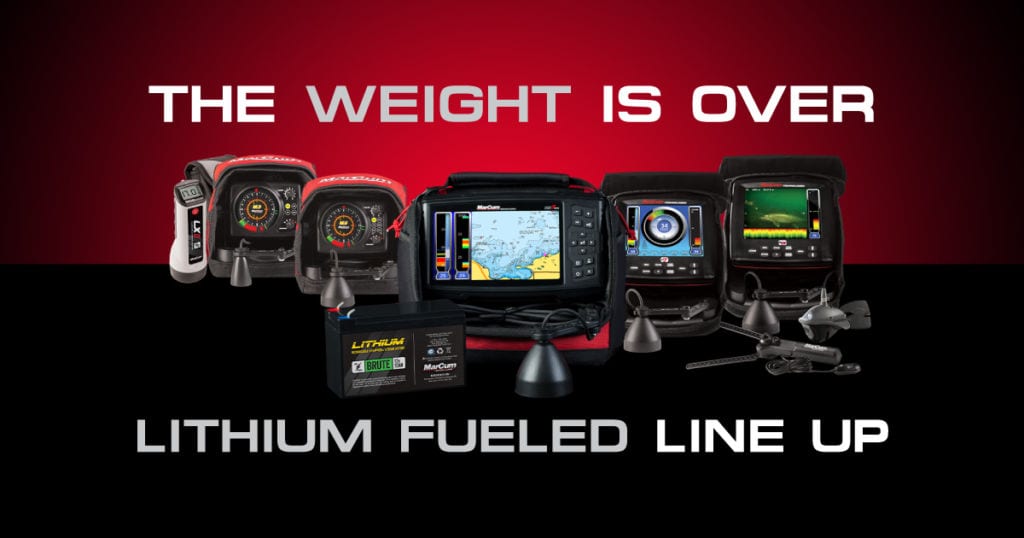 THE WEIGHT IS OVER –
MarCum Technologies introduces the
L-series.
New Hope, MN – Marcum Technologies, the undisputed leader in ice-fishing-specific sonar, takes tech to the next level.  Their long-held principle is that features are useless unless they help an angler catch fish, and that can be seen throughout decades of innovation.  Patented technology like moveable zoom that led to angler's ability to target fish anywhere in the water column was the first ping heard round the world among the ice sonar community.  They followed it up with additional advancements to help distinguish echoes from noise in an interference rejection system so advanced, it's also patented. 
So when MarCum first recognized the advantages of Lithium power years ago, it developed a shuttle driven by the very battery technology that's revolutionized our world. It should come as no surprise then, as MarCum unveils a new Lithium and Lithium LiFePO4 battery lineup, that it would include those very powerplants in nearly all of their proven digital and sonar flashers.
We're lucky as anglers to exist in the golden age of ice fishing, with advancements over the last 20 years coming at a very high rate. Our clothes are warmer, shelters stronger, and our ice augers drill more holes with less effort. So too have come advances in ice electronics; if you're buying the most technologically advanced sonar in the world, shouldn't it have the proper fuel to power it?
The MarCum line of batteries aren't mere accessories, but platforms of energy that deserve to be in every unit.  Specifically, the 12V10AH Lithium LiFePO4 MarCum Brute will be put in the bulk of the MarCum lineup, shaving pounds and adding life to each system.  MarCum's Product Development Engineer, Rocky Holmes says "We're constantly looking at ways we can make a Marcum customer more comfortable so they can spend more of their energy fishing than fiddling."  That means lighter and easier to hole-hop, but also more convenient to own.
Comfort comes in weight savings, but also in the fact that MarCum isn't increasing the price of their industry-leading, time-tested sonar to do it.  The $100 Lithium LiFePO4 battery exists as a value-add to customers looking for the best electronics on ice, with the most power currently available.  For 2020, MarCum introduces the L-series which includes the MarCum M3L, M5L, LX-7L, and LX-9L.  The MarCum Brute will also be standard equipment in the all-new sonar/GPS combo, MarCum MX-7GPS.  For our other systems, a Lithium LiFePO4battery is going in, and the price of unit is going down.  That means your system loses weight but your pocketbook won't.
Lithium technology has pushed ice-auger innovation further in 5 years than it has gone in 50, and MarCum takes that same tech and applies it throughout its entire lineup. But don't take our word for it, listen to famed angler and ice-troller Tony Roach of Roach's Guide Service. "With clients or just on my own, I'm an angler on the move. That means that anytime I can reduce weight, it's welcome." To reduce weight AND increase performance, longevity per-charge, and lifespan is a total win for all anglers on ice.
For more information on all of the battery offerings by Marcum, go to https://marcumtech.com      
Marcum Technologies – MarCum Technologies, based in New Hope MN is the industry leader in ice electronics. Since 2000, Marcum has been devoted to offering angling innovations including GPS, sonar flashers, digital fish finders, underwater cameras, and more. With products made primarily in the USA, MarCum Technologies holds numerous patents and industry exclusive features. Quality, durability, and innovation are hallmarks of the MarCum brand.