TIME TO GET REAL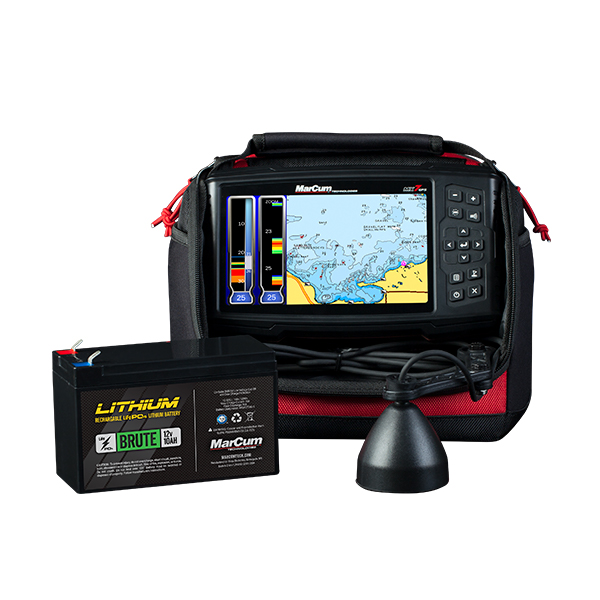 As the leader in real-time sonar, MarCum Technologies unleashes a Sonar/GPS combo that serves hard-water first.
New Hope, MN – The all-new MarCum MX-7GPS pairs GPS and mapping with the most advanced, proven ice sonar of all time. Gone are the days of using open-water sonar simply to get GPS capability; welcome an era of ice-specific sonar/GPS innovated for the rigors and mechanics of our sport.
One thing alone establishes ice fishing electronics performance, and that's speed. For ice fishing, before you consider anything else, you have to be real-time, the primary qualification that distinguishes ice sonar from open water technology. Without it, you're tracking behind – you're guessing at bites and reactions made from past inference rather than what's happening immediately below. It's the feature that has made MarCum's performance for ice anglers legendary.
Where real-time was lost in a sonar/GPS combo unit, the MarCum MX-7GPS now fills that void. That said, ice fishing is a communal sport, often done in close quarters with or nearby a host of other anglers. Forget a boat-length or three away, ice anglers are often three to a shelter or more, each with their own interference-inducing ice sonar. That means the next ice-specific component you need is interference rejection. Cross-talk of signals that's much more common in the ice environment, and MarCum's interference rejection system featured in the MX-7GPS is so advanced that it's patented.
The features don't stop there; the MX-7GPS's real-time display that shows the entirety of the water column, your presentation, and the fish's reaction can be viewed on a myriad of screen settings, sizes, and options simultaneously – screens that show history, vertical views of the entire water column, and zoomed-in portions, all simulcast in real-time. Real-time is Marcum's secret sauce, a feature competitors have been chasing since the introduction of the first MarCums. In the MX-7GPS, anglers get real-time with the fish-catching feature-sets they've come to expect from MarCum digital systems and more.
Just as anglers of the past herded towards GPS for precision mapping, they'll come to appreciate the performance and coverage of Navionics electronic map charts. MarCum is known for setting standards in performance, and that's why we're proud to work with an industry-leader in Navionics. Anglers can enjoy the performance of their MX-7GPS while taking advantage of a host of proprietary Navionics mapping features.
The MarCum MX-7GPS is purpose-built to provide the very best sonar/GPS experience on ice possible. This season, utilize this proprietary tech unique to MarCum, and only found in the MX-7GPS. Explore the ice-scape with Navionics map-card capable GPS. Last but not least, roam far and wide with power to spare, as MarCum is packaging each MX-7 with the featherweight 12V10AH Lithium LiFePO4 MarCum Brute battery that's worthy of the technology wired to it. Finally, a hyper-advanced ice unit that comes from the factory paired with a battery that can actually power it.
For more information on all of the battery offerings by Marcum, go to https://marcumtech.com
Marcum Technologies – MarCum Technologies, based in New Hope MN is the industry leader in ice electronics. Since 2000, Marcum has been devoted to offering angling innovations including GPS, sonar flashers, digital fish finders, underwater cameras, and more. With products made primarily in the USA, MarCum Technologies holds numerous patents and industry exclusive features. Quality, durability, and innovation are hallmarks of the MarCum brand.