20TH ANNIVERSARY OF
UNDERWATER VIEWING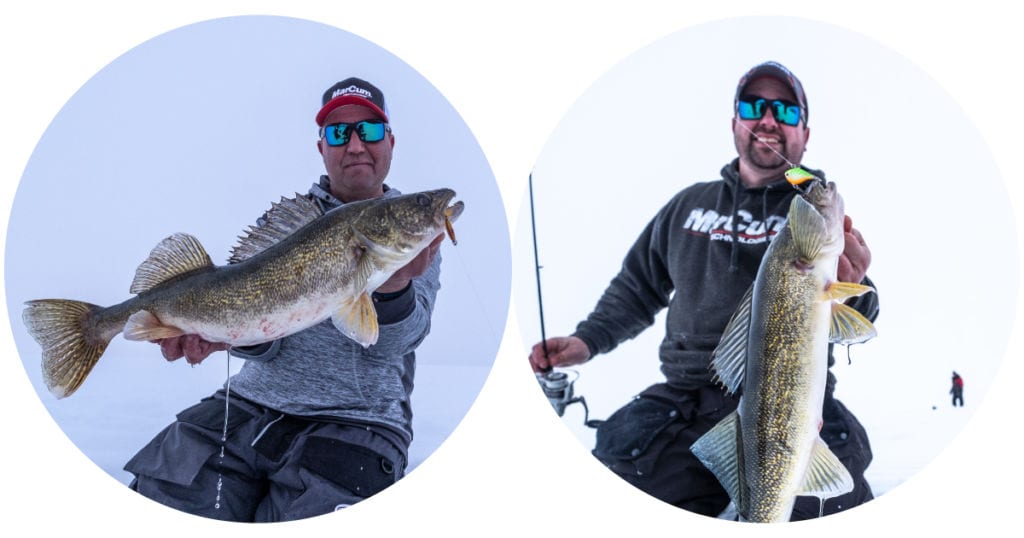 THIS WEEK –

Tony Roach & Joel Nelson
MARCUM WILL BE TALKING ABOUT THE VALUE AND EXPERIENCE GAINED WITH THE USE OF UNDERWATER CAMERAS IN THIS SERIES. EACH WEEK WE WILL GET NEW INSIGHT FROM ONE OF ICE FISHINGS TOP ANGLERS, TELLING US HOW UNDERWATER VIEWING HAS MADE THEM A BETTER, MORE SUCCESSFUL ANGLER.
Tony Roach and Joel Nelson talk about the past 20 years and everything they have learned a anglers through the lens of an underwater camera.
Two decades ago, MarCum released its first underwater viewing system, giving eyes below the surface to an entire generation of anglers. Their world has been forever changed because of it, from the way modern ice anglers fish to the equipment they use, underwater viewing has shaped the evolution of the sport. While the systems themselves have also evolved through the years, the one thing that remains consistent over time is the amount of information anglers glean when seeing underwater for the first time.
What prior generations were required to learn through trial-and-error, modern anglers have seen through their own eyes, learning in real-time exacting specifics of fish behavior and the aquatic environment. From the importance of green weeds to general fish activity, to the development of products like inline reels to combat spinning baits, all have been made possible through seeing the underwater world as we had never before.
Each of us have our own underwater viewing story, including MarCum's top pro's. Tony Roach, famed guide and walleye expert recalls the first spoon he saw on an underwater camera. "The thing never stopped spinning and just looked un-natural in the water. Now it's common knowledge to put a swivel a foot or so up from jigging spoons but that was advanced stuff before anglers could see the effect for themselves," says Roach. Swivels and then in-line reels that impart zero twist into deployed baits soon became the norm.
Cameras alone were an advancement to the sport, but what's been learned from them has pushed that evolution even further. Long-time MarCum pro Joel Nelson has been with the brand long enough to remember that initial camera release. "I'll never forget taking it out to a weedbed full of late-ice bluegills. They were stacked, but only in very precise pockets within the weeds. If you drilled 3-feet away, it wasn't close enough, making a camera just critical to both finding and catching," says Nelson.
Beginners and top pro's alike can appreciate knowledge imparted same-second, to make adjustments that translate into bites immediately. That's especially true for finicky eaters like panfish and perch. Nelson recalls tough bites for everything from big bull gills, trout, and even a particular perch bite on Devil's Lake. "It was a cold front and we couldn't get them to eat anything, until we tried laying live minnows on the bottom. You needed the camera to see them react to it, as they angled down to slurp it up. Try to tight-line and feel the bite, and they'd never eat it – a camera was a must for that day," says Nelson.
Twenty years ago, anglers knew little about invertebrate activity under the ice. Now, we know how widely distributed they are and where, pushing ice plastics and lure development to places otherwise unreachable. Underwater viewing answers the "why" – earning us a better understanding in fish behavior that ultimately leads to more successful days on the ice. It's long been said, "find the food, find the fish." There's no better way to determine what a gamefish is eating by seeing them eat it with your own eyes. When lakes are covered with ice, we get locked out of that layer of visibility would it not be for underwater cameras.
Judging a fish's mood determines your cadence and jigging motion for the day. Aggressive fish demand a louder and prouder approach, but being able to witness a fish's disposition at any given moment and how they address a bait, dictates exactly how aggressive or subdued your approach should be. It's a basic thing we take for granted, that can also be understood from sonar, but the camera makes it undeniable.
MarCum celebrates and honors the underwater viewing advancements that have brought us through today, while innovating everything from brighter viewing screens to ultra-light, long-lasting, and durable Lithium batteries that power them. That heritage of moving the sport forward is something we at MarCum take seriously, and promise to continue as long as there is ice, and fish under it to target.