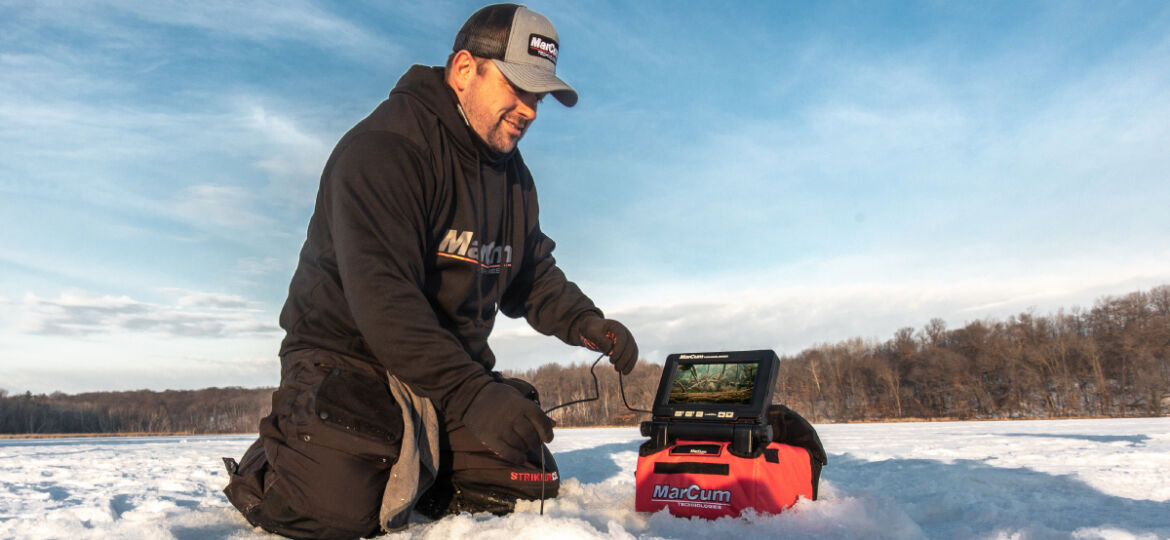 The Marcum VS485C
Best Camera System for Your Buck
UNDERWATER CAMERAS ARE HERE TO STAY
There is no doubt that underwater cameras have had a huge impact on the growth of ice fishing. With a stable platform of ice to set up on, a camera is a perfect tool to be able to peer into the underwater world below. There is nothing better than being able to literally watch fish behavior and watch the fish strike your presentation. There is so much to learn from this simple viewpoint that children to veteran ice anglers get mesmerized while watching the screen.
CHOCK FULL OF QUALITY
At Marcum, we make a habit of delivering best-in-class products at every price point. The MarCum VS485C underwater viewing system is no exception. One look at the crisp picture from this unit and you will think that it is mispriced.
The 7-inch color, high-resolution flat-panel LCD screen has 800 x 480 pixel resolution and is matched with an industry-best ⅓" CMOS sensor. The 90 degree viewing angle ensures you will be able to see all that is happening below.
Control the contrast, brightness, sharpness, color and lighting with ease with the intuitive control panel on the front of the monitor. The VS485C also utilizes color kill technology to help improve the image while using the camera in low-light or stained water conditions.

ENGINEERED TO PERFORM
Everything about the VS485C is well thought out to eliminate any frustrations on the ice (or water). The 50 feet of high strength camera cable is easily managed with the cable management spool that stores neatly within the bottom of the camera system alongside the battery. The Manta camera also fits in making the camera system nice and compact for transport without having loose parts.
An RCA video out port also comes standard on the VS485C. This allows anglers to hook this unit up to an additional or larger monitor or a recording device. Because it is rich in performance and features, it is the most widely distributed and produced ice camera in the world.
COMPLIMENTARY EQUIPMENT
Marcum camera panners are the perfect complement to the VS485C. Whether you prefer the Wireless or Wired option, they both allow you to effortlessly spin the camera to help provide a 360 degree view below without having to leave your seat.
YEAR-ROUND TOOL

Don't limit your underwater camera use to just the winter, as this tool can really help positively identify fish species in the depths below year round, including summer time. Some fish species will mark very similarly regardless of what type of graph or fish finder you use.
Quickly dropping a camera down in their midst you will instantly know if they are bass, walleye or suckers or a combination thereof. The VS485C also comes with a removable trolling fin to help the camera track while moving in open water and also doubles as a down-view option for ice fishing.
The VS485C provides a professional grade flat panel monitor, removable sun shroud and industry best camera at an entry level price point. With all the features packed into this camera system it's a no-brainer for any angler of any age.