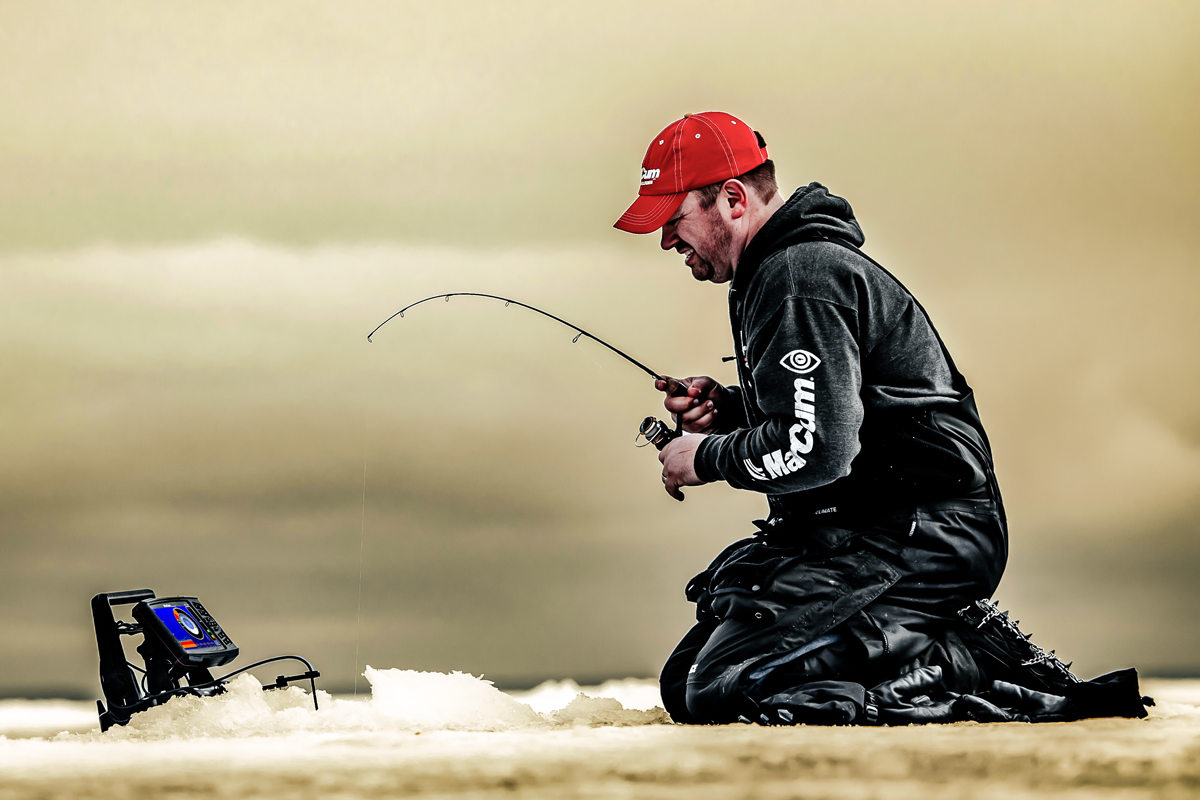 BEST ICE FISHING
SONAR OF 2021
Everyone has personal preferences when it comes to their ice fishing sonar. MarCum has you covered whether you like the proven technology of an ice flasher, or the customization and cutting-edge performance of a digital system.
Mechanical vs. Digital Flashers
It's important to note the differences and strengths between systems, as each category has come a long way in recent history. Mechanical fish locators have been around for decades, and their dependability has become a hallmark of their service to anglers across the ice belt. They represent a class of ice fishing finders that are simple to operate yet have some impressive technology of their own; all while helping anglers on ice see their baits and approaching fish. Spread the circular dial display across a vertical water column, and anglers find a comfort zone that's very intuitive to use. Just as they did when first introduced many years ago, mechanical flashers help anglers put fish on ice, period.
When it comes to any flasher, one thing alone establishes ice fishing electronics performance, and that's speed. For ice fishing, before you consider anything else, you have to be real-time, the primary qualification that distinguishes ice sonar from open water technology. Without it, you're tracking behind – you're guessing at bites and reactions made from past inference rather than what's happening immediately below. It's the feature that has made MarCum's digital performance for ice anglers legendary.
With the fastest real-time latency in the industry established, MarCum digital flashers pile on the feature-rich and fish-catching additions that offer tactical advantages when used in the right situations. That starts off by giving anglers multiple display options – water-column vertical, vertical zoom, flasher-dial and traditional horizontal LCD graph. All Marcum digital units feature 1/2-inch target separation, offering more detail than any ice sonar to date, while also offering the possibility of onboard underwater cameras, GPS, and other technologies depending on model. Perhaps most importantly, digital systems can be customized to fit the way you fish. Mold the tools to fit the exact scenario and species you're targeting rather than force yourself to fish in a way you don't prefer.
Best Entry-Level Ice Fishing Electronics
MarCum M1 – If sales are any indication of effective ice fishing sonar, then the market has spoken. MarCum's #1 selling sonar is popular for good reason; it's everything you need to fish right out of the box, including a protective cover. Made in the USA, the M1 is quite simply, the best entry level flasher on the market, with advanced features found only in systems that are far more expensive.
The M1 features bottom zoom, that being said, its two buttons and two knobs make it extremely simple to use. Even though your focus for fish like walleyes may be on the bottom, you will be able to see the entire water column, making zoom an everyday feature on ice. If you're a first-time angler, you might need more tomorrow than what you think you need today, which is what makes the rich feature-set of the M1 something you can both start with, and grow into.
Most Versatile Ice Fishing Sonar
MarCum M3L – If you're an angler that fishes a variety of species and situations, the M3 is your sonar. With all the features of the M1, plus moveable zoom and additional interference rejection settings, the M3 is no slouch when it comes to performance. MarCum was the first to patent moveable zoom technology, a feat which continues to make all the difference to anglers across the ice belt. Fish suspended crappies down 25 feet over 50 feet of water, and zoom into the school to determine active fish and larger individuals. Then break off and fish walleyes on an 18 foot break, focusing on only the very important bottom 5 feet. Then change plans and fish lake trout suspended over the abyss and wake up to do it all again the next day. The M3's moveable zoom is simply the best tool for anglers who love to chase a variety of fish species on numerous water bodies. With the added MarCum Brute Lithium LiFePO4 battery, you've got a versatile system that has power to spare.
Most Advanced Ice Fishing Flasher
MarCum M5L – Take the M3's moveable zoom, then add superfine line and a dual beam ducer in the venerable MarCum M5. For years, the M5 has been MarCum's flagship sonar unit, only because it was the pinnacle of technology for nearly a decade, offering anglers the most advanced sonar available. Today, that technology is no less useful, as moveable zoom boosts of Superfineline offer the most crisp, bright, and separated flasher targets available, and make it simpler to decipher bait from bottom, and bait from fish. A dual-beam transducer allows anglers to narrow their cone angle when fishing steep breaks or near other anglers in a portable or permanent house environment, all while adding precious few buttons to the user interface. That means you get superb with simple, important advancements while still being intuitive to use. With the added MarCum Brute Lithium LiFePO4 battery, you've got the best fish finder for ice fishing with the most power in the industry.
Best Digital Ice Fishing Sonar
MarCum LX-7L – As the original digital flasher, the LX-7 first introduced to the entire market a tremendous technological breakthrough. Real time sonar on a digital unit didn't exist until the LX-7, and it remains unrivaled to this day. Instant feedback, extremely low latency, and razor crisp response simply means more bites converted, less fish missed, and more being brought topside. Being able to show real-time response on a digital platform expanded MarCum's feature-set even further by allowing people to see information in an even more impactful way. On a flasher, anglers sacrifice half the screen to see zoom, but on digital, they see both simultaneously with the option of seeing up to three screens at one time. Customize the LX-7L's super-bright and large screen to the way you fish and never look back. With the added MarCum Brute Lithium LiFePO4 battery, you've got a technological powerhouse with a fuel source worthy of its performance.
Best Digital Flasher/Camera Combo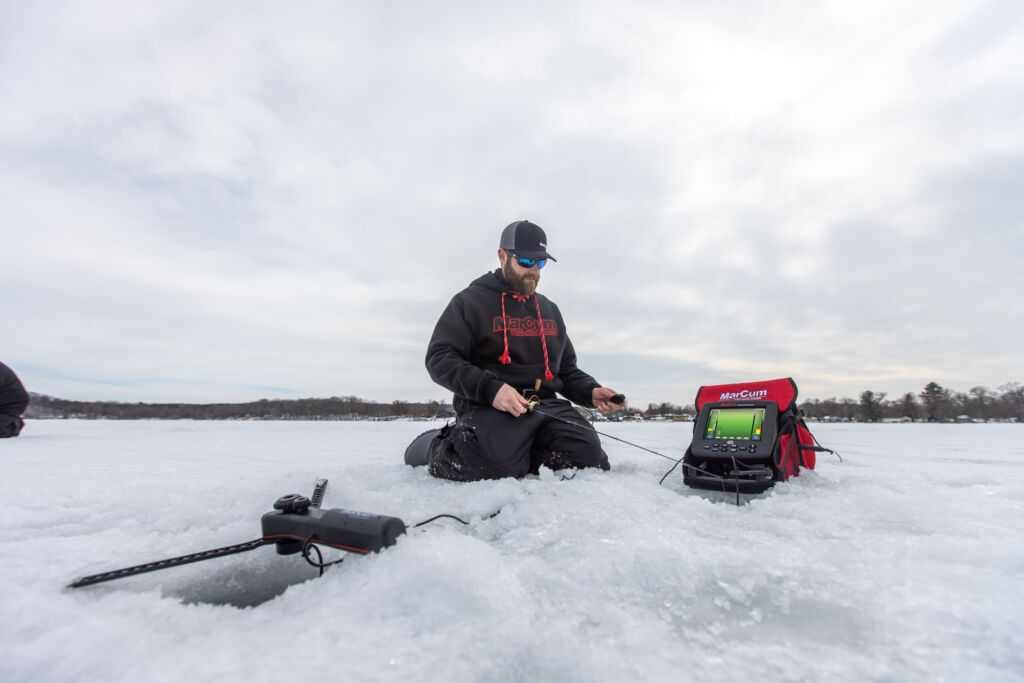 MarCum LX-9L – Should I buy a camera or should I buy a sonar? The answer could be both as fans of the LX-9L get two required pieces of electronics for the sport of ice fishing, all in one easy to use, single package. Perhaps more importantly for anglers, sonar and camera feed can be split on the screen, or superimposed together, meaning you don't have to sacrifice valuable screen real-estate to see both if you don't want to. Rather than being a one-or-the-other proposition, the MarCum LX-9L is like no other self-assembled flasher and camera combo on the market. With the added MarCum Brute Lithium LiFePO4 battery, you've got a fuel source that can handle the large power requirements of running both a camera and sonar for hours and even days.
Most Advanced Digital Ice Fishing Sonar
MarCum MX-7GPS – With the MX-7 gps fish finder, you've climbed to the top of the peak, and taken decades of MarCum's patented ice innovations along for the ride. As a Lithium battery powered sonar/GPS combination unit, we've taken GPS mapping and fused it to Marcum's legendary sonar platform. This 7 inch depth finder is Navionics mapping capable and allows anglers to both find spots and return to them, a crucial feature on ice when packaged with so many other fish-catching features. Take the MX-7 out of the box and it's automatically locked in ice mode; equipped with a Lithium LifePO4 battery, softpack, and ready to fish. Long story short, we've added more features, making them longer lasting, lighter, and technologically superior, all while staying true to our real-time roots – a defining characteristic in any quality ice sonar. Did we mention it has best-in-class target separation at ½"? That means you understand your bait, bottom, prey, and predators in more focus and detail than ever before possible. Simply put, it's the best fish finder with gps and maps.
Best Overall Ice Sonar on the Market?
No matter where you fish, or the preferred species you fish for, the best flasher on the market is a fish finder that best fits your style of fishing. The first thing to take into consideration is how each feature brings more versatility to a system. If you're strictly a walleye angler, it's no secret you'll be fishing bottom often. Having a unit that zooms on bottom may be all you need, but that's a pretty unique person on the ice. Walleyes eat at dawn and dusk, but anglers need to face other times on ice as well. That could mean moving to suspended panfish during the daytime periods. That's where moveable zoom, an exclusive feature to MarCum, starts to pay large dividends. Beyond species, mobility on the ice may be different for each angler. Some folks walk out, some have ATVs and sleds, while others won't think about fishing until they drive trucks out. Some sit on buckets, while others sit in portables or even luxury wheelhouses. One size may not fit all, especially as it relates to mobility for certain species. Look inward to determine the kind of angler you are, where you live and how you fish, then put the above details to work to find the best sonar for the money.