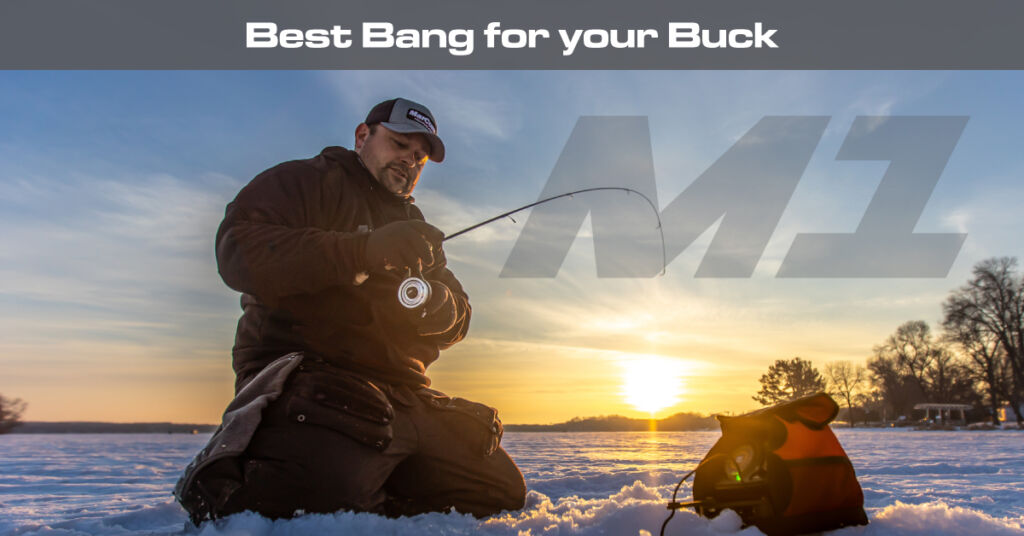 MarCum M1
Best Bang for Your Buck
Midwest angler Joel Nelson knows a thing or two about ice sonar. As MarCum's longest tenured pro-staff member and media personality, he's been running a MarCum since the brand's inception. Though he could run any fish finder on the planet, he's an avid fan of the M1. "It's really a sonar that takes me back to some of the original MarCum units that just flat caught fish," says Nelson. "You get exactly what you need in an ice locator, ready to fish out of the box." Nelson logs thousands of miles across the ice belt each season, fishing and filming for a host of TV and video segments, all while toting an M1. "I appreciate so many of the MarCum units in the lineup, but I'll always have an M1," says Nelson.
At first glance, you wouldn't expect a guy like Joel to use a flasher under $300 bucks when he could run any level of technology he'd like. "I love the advancements in the MX-7GPS and LX-7L, and love fishing with the digital units. They are great for customizing the screen exactly my way, but I can fish an M1 and not feel at a disadvantage," says Joel. "More importantly, I can offer these flashers to my kids, friends, and other family without feeling like 'I'm taking the good one.' They're all good ones, and the M1 is a really good one."
When it comes to ice fishing flashers, there's no specs or tech that are helpful if they don't get used. Fancy features and cutting edge sonar often give way to what works year in, year out. For decades, existing ice electronics from other manufacturers served a basic need. Mark fish, catch fish. Yet, there's not a product in MarCum's lineup that isn't purpose built, so if there was to be a better entry-level flasher, Marcum would build a better mouse-trap to do it. In some cases, MarCum has trailblazed and offered ice scape changing innovation, but when it comes to the M1, the game was about making what existed even better.
Especially for anglers that have been around the block a few times, it's hard to argue with results. Favorite lures and time-tested patterns offered at key locations are a matter of personal history with so many experienced ice-heads. They fish what they know works, in a reliable manner with familiar equipment like the M1; knowing that at least for them, more time fiddling means less time actually fishing.
So it goes for so many people Joel heads to the hardwater with. "I've always got backup sonar," says Nelson. "I can own a few of these for the price of many manufacturer's entry level units and make sure that I'm never without." For friends and family that don't have much sonar experience, less buttons means more confidence in flasher settings. With a simple gain adjustment knob for sensitivity, and quick buttons for Interference Rejection and Zoom, anglers can locate their bait quickly in the water column and even focus on the tiny details that unlock a bite. "So many times with walleyes, I'm just looking for that bottom to flicker, signaling a walleye at the edge of the cone angle," says Nelson. "With the bottom zoom engaged and proper gain settings, I can trust my 13 year old son to both see and catch with the M1, and they prefer it for how easy it can be to use."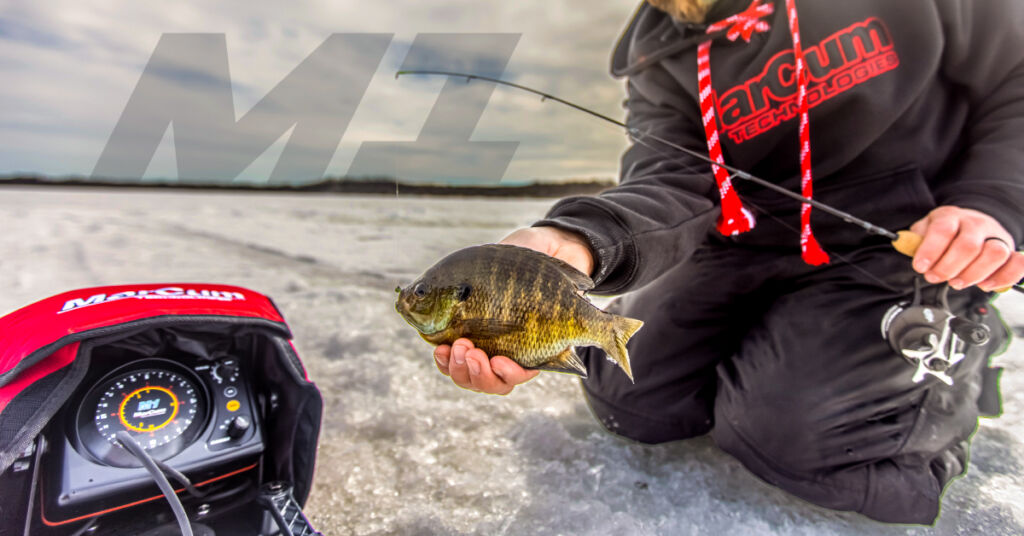 More focus on less features can mean better implementation on some of the fishiest parts of the M1. Aside from the M1's Interference Rejection, Zoom, and 2" Target Separation, anglers get to study the sensitivity of an incredible ice sonar engine. "I think one of the keys to being better with sonar in general is dialing in that gain setting," says Nelson. "You want to see a thin, solid line as your jig, but doing so with the lowest possible gain setting will reduce noise and show you clean signals." Each depth range, jig, and lake bottom will require a different tweak, and M1 anglers having less to distract can really hone in on those complex details for a fraction of the cost of competitor entry-level systems.
That might be why the M1 is hands down the most popular flasher MarCum makes, as well as the best-selling. For under $300, anglers get a ready-to-fish sonar with zoom, IR, and a softpack. The battery and charger comes with it, but perhaps more impressive than what comes with it, is where it comes from. All M1s are proudly manufactured in the USA, at the heart of the ice belt near New Hope, MN. Though the M1 may not be the first flasher, or even the most advanced flasher, the M1 has always been the most feature-laden unit for the money.
As a first time angler or seasoned pro, there's lots of reasons to shop bang for your buck over nearly all other attributes.  The M1 has exceeded the status quo set decades ago, charting a course for best-seller and most popular sonar characteristics, all while creating a legacy of its own now approaching decades.  All of which means you're in good company selecting a sonar unit that's extremely simple to use, WITH the features you actually want in a flasher. 
Truth be told, there's no dog in the MarCum lineup. "Whether it's digital or mechanical, I'm used to any flasher and what it's showing me," says Joel. "So often, simple bites like first ice walleyes require simple solutions in electronics." He adds, "If more anglers just focused on getting good at the basics of sonar, a basic sonar unit like the M1 would help them catch far more fish than the most expensive sonar on ice." While it's hard to make a bad choice in the MarCum line of mechanical and digital flashers, the pinnacle of value and performance comes together in the M1. Especially in today's rising-cost environment, bang-for-the-buck isn't just a quick moniker, as much as it's the spec that matters most to all MarCum M1 owners past, present, and future.
As you prepare for the season or your next trip out, check out this article about Ice Season Preparation.
If you are looking to learn about identifying fish, check out this article about How to ID types of Fish with your Ice Fishing Flasher.