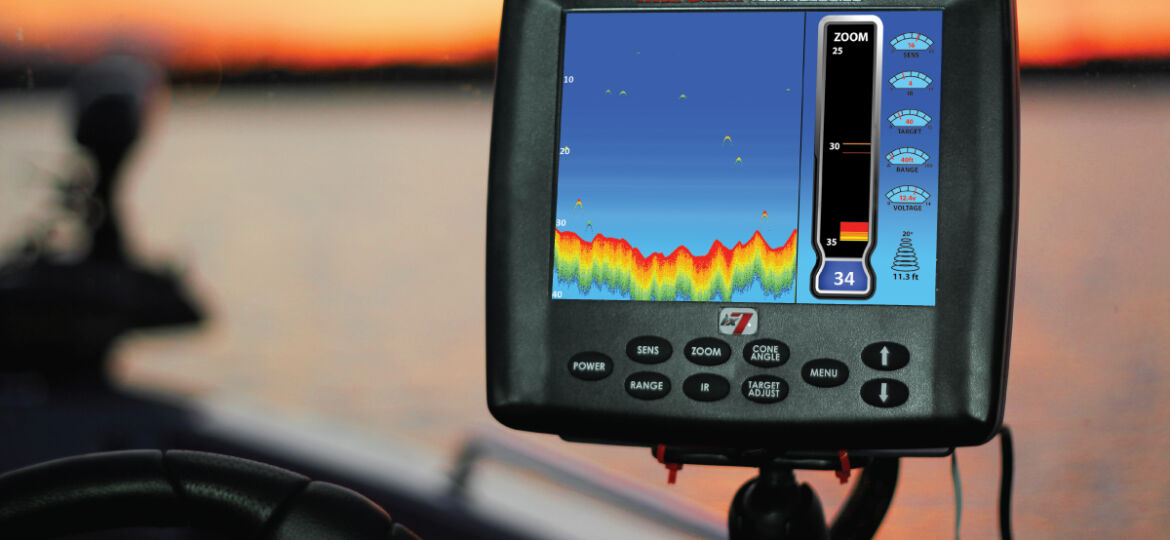 Can I use a MarCum
on my Boat?
It's this time of year when our ice sonar is swapped for long rods and soft water, but that doesn't mean your MarCum should be put in the back corner of the garage. All sonar systems, digital or mechanical styles, offer keys and cues that help anglers be more successful on the water.
That's especially true in small crafts like kayaks, canoes, or small skiffs where a larger, permanently mounted traditional LCD display isn't in play. Here's just a few ways to trick your craft, whatever it may be, and get the very most from your MarCum.
Open-water flasher
Sometimes, the very best way to utilize your ice flasher is just the way it sits in its soft-pack. Early season, when fishing for crappies, bluegill, and other panfish that have yet to make their transition to spring haunts, you're often fishing vertically over depth. That is the very scenario where a real-time sonar system is of most benefit. Just like when ice-fishing, you'll see targets at depth approach your bait as you drop it directly below the transducer.
Start by looking at your old waypoints from ice fishing, especially if you use the MarCum MX-7, and simply dump the ducer over the gunwale and start slowly tracking around. Once you locate them, fish exactly as you would on ice, paying careful attention to portions of the school that appear most aggressive.
Cold water keeps fish at depth longer, so a late spring can be your friend if you enjoy this type of fishing. You'll definitely have most of these schools to yourself as the majority of boat traffic comes when the weather is warmer.
Open-Water Transducer
For most, it's a little-known fact that you can get a permanent skimmer style transducer to install on your boat, kayak, canoe, or other small craft. You get the choice to mount on the transom, or a bow-mount trolling motor, and can mix or match depending on what makes the most sense for where you have the unit mounted. If you prefer to drop only on weedlines when casting from the front of the boat, put it on the bow.
If you'd like to extend the functionality of the massive screen size of your LX-7, the camera/sonar dual-threat of the LX-9, or the MX-7 and its GPS/sonar capabilities, mount the openwater transducer on the transom for a more permanent solution. That way, when you're done on the ice, simply remove the unit from its soft-pack and put it on a host of dash-mounted options.

So often, it's in these small crafts where the power of simple sonar can really unlock the potential of your fishing. Remote lakes in the Boundary Waters Canoe Area (BWCA), small potholes, or skinny rivers, all can have their secrets that you've been driving over for years.
Features like the MX-7's mapping option through the Navionics Sonar Chart Live, allow you to drive over locations and map as you go, creating a basemap from which to fish areas that have no current contour information. If you're a back-country angler of any kind, these solutions offer you the ability to have a great ice unit that doubles for incredible open water use.
Powering Your Passion
There's a number of great battery options for smaller craft as well, giving you the ability to make your summer sonar solution a long-lasting part of the open-water fishing experience. The biggest power-plant available is the 12V30AH MarCum Max, providing incredibly long-lasting power for those requiring Lithium LiFePO4 performance in demanding scenarios. At right around 7lbs., it won't get in the way of you getting to where you need to be, no matter how far the outpost.
Another great option that strikes a compromise between run-time and size is the MarCum King. At 12V18AH and around 4 ½ pounds, the King offers a great balance between size and performance that anglers often prefer.
Of course, with all of the MarCum Digital Sonar and nearly all of the MarCum Flashers, you can simply use the provided MarCum Brute Battery. As a 12V10AH battery, this power plant can run your MarCum products for the better part of the weekend without requiring a recharge.
Consult this chart to see exactly what you can expect from the Brute and other batteries. Perhaps most importantly to kayak and canoe users, batteries like the Brute are incredibly light. Run for days, but don't sacrifice the mobility you seek to hunt new fisheries and find remote waters.

No matter your sonar, the best ice electronics can improve your summer fishing just like they do when the winter months come. You just need to pull it out of storage and rig it in a way that helps your specific fishing situation.
Fishing remote waters? No problem. Like to run it permanently on your big rig? Also, something that works great as an extra screen for the bow or console.
Really, the opportunities are endless, and it's up to you to get the most from your electronics, flasher or digital sonar.