5 AWESOME THINGS YOU DIDN'TKNOW YOU COULD DO WITH THE RT-9 2.0
With the RT-9 2.0 you get more than just a flasher. Instead, you get an entire ice fishing system complete with sonar, mapping, recording, dual flasher capabilities and more. Combine these features with unlimited flexibility, and you have the ultimate system for the ice. 
In fact, it has such a vast amount of features that we put together a list of the 5 things that you probably didn't even realize you can do with the RT-9 2.0.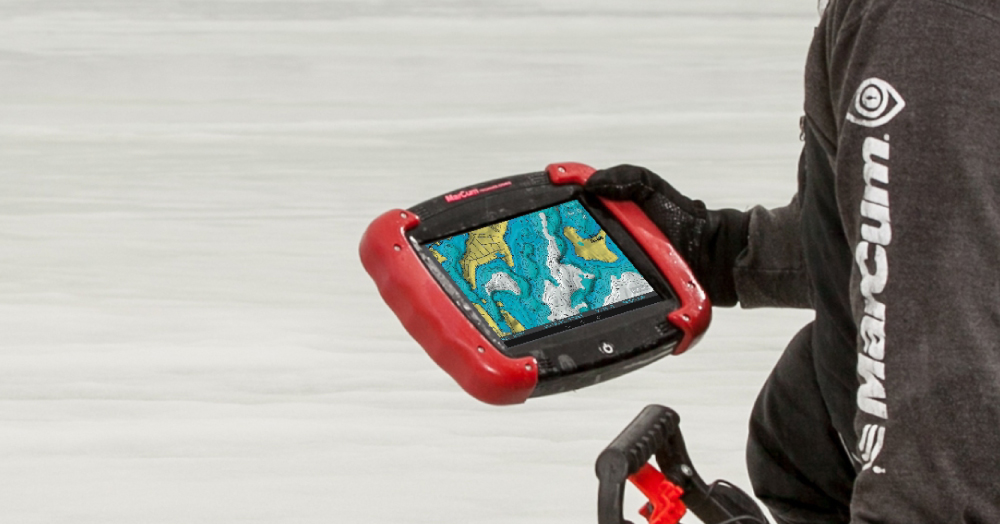 One of the most unique aspects of the RT-9 2.0 is the fact that you can record your screen. This makes sharing sonar or underwater camera footage easy. Whether you want to share your flasher footage with the angler right next to you, or later in the weekend with your friends online, the RT-2.0 has you covered.   Now, you can easily share the exact moment that trophy fish nailed your line.
Share The Flasher With Another Person
(One Flasher/Two Transducers)
You no longer have to worry if your friend or family member forgot their flasher at home.  With the RT-9 2.0 you can simply add a second transducer and share the unit. This is a perfect solution for those wanting to teach new anglers, or for anyone who simply forgot to bring their flasher.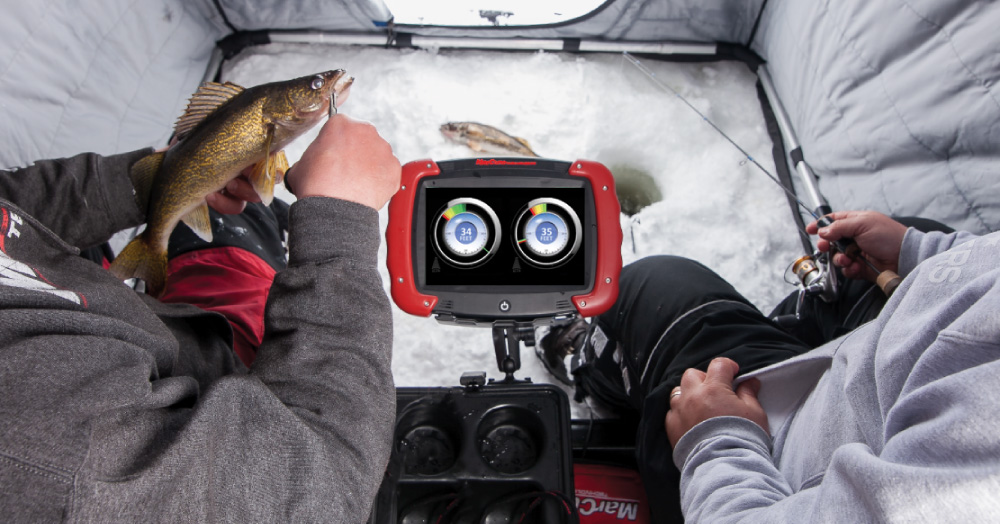 The RT-9 2.0 comes with endless customizations.  The unit itself includes mapping, diverse sonar options, an underwater camera option, and more.  However, the best part of these options is that you can overlay them however YOU want. You can have mapping next to sonar, you can overlay sonar on top of the underwater camera view, or have multiple sonar layers showing at once.  With the R- 9 2.0 you can literally build your very own ice fishing experience.
Another fantastic feature of the RT-9 2.0 is that you can add custom waypoints to your Navionics map. This means if someone sends you a hot spot, you can simply type in their waypoints and your set. You can enter coordinates in decimal degrees, degree minutes and seconds, or normal latitude and longitude.  Using waypoints has never been easier.
Removing the Tablet and Use it as a Portable Mapping Device
Finally, one of the most unique and beneficial features of the RT-9 2.0 is that you can remove it from the dock and mount it on your snowmobile, ATV, or even vehicle. This makes using the Navionics map efficient.  Even if you choose to keep it in hand, this is going to be a lightweight solution for your mapping needs. The RT-9 2.0 has a built-in battery, giving you all of the flexibility you need when on the go.
The RT-9 2.0 Has All of the Features You Need (and Then Some)
The best part of the RT-9 2.0 is that it gives you more value for your dollar. Instead of investing in multiple units, and hauling around extra gear, you can get an all-in-one affordable option with the RT-9 2.0  Whether you are a guide, recreational angler, content creator, or simply want to share your sonar with someone new to the sport – the RT-9 2.0 has you covered. 
You can learn more about all of the updates for the NEW RT-9 2.0 right here.