SAME INDUSTRY-LEADING SONAR, MORE POWER AND FEATURES
MarCum Unveils Expanded Line of M1 Sonar Ice Systems, setting new standards in performance and value.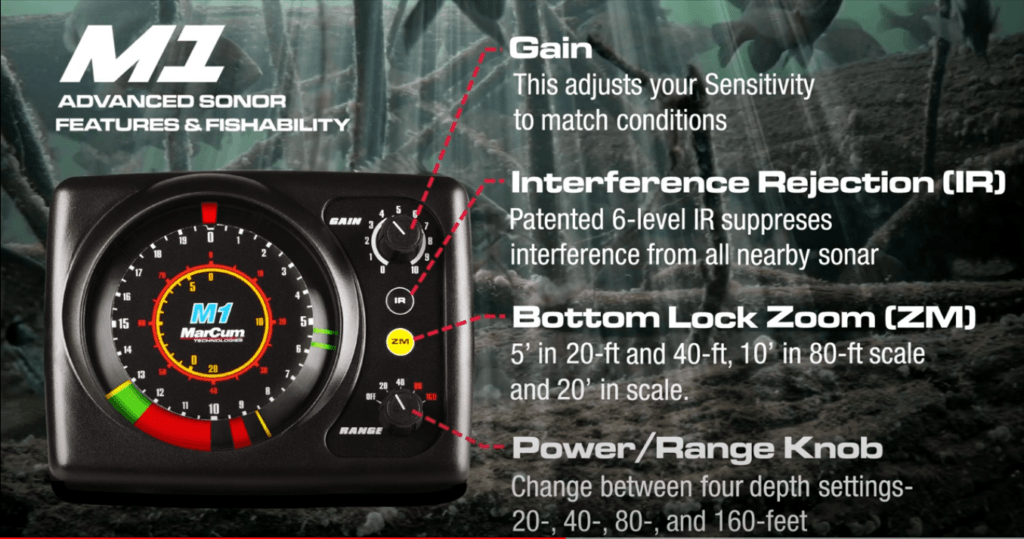 New Hope, MN – (September 4th, 2023) MarCum, a pioneering name in ice fishing technology for the past two decades, proudly introduces an extended lineup of its flagship sonar ice fishing system, the MarCum M1. With an unrivaled track record of outperforming the competition, the M1 Sonar Ice System has been a staple for anglers across the ice belt. The latest enhancements and additions to the M1 line continue to showcase MarCum's commitment to innovation and excellence.
For over 20 years, the MarCum M1 has maintained its industry-leading position, boasting MarCum's patented interference rejection system and an advanced zoom feature that was once exclusive to premium systems. Now, for the 2023 ice fishing season, MarCum raises the bar once again, introducing two new models that cater to different angler preferences and budgets.
1. M1X: The Ultimate Budget-Friendly Option
The M1X is designed to provide exceptional value without compromising on performance. Priced at an attractive MSRP of $269.99, the M1X redefines the entry-level offering by incorporating advanced features that set it apart from competitors in its class. One of the defining features of the M1X is its power source flexibility, allowing anglers to choose between an SLA (sealed lead-acid) battery or one of MarCum's LiFePO4 lithium-powered battery.  This versatility ensures that anglers can tailor their fishing setup according to their needs and preferences. The M1X also comes with no soft pack allowing the angler the choice to configure this unit to best fit their needs.
Two Buttons, Two Knobs: Intuitive operation for quick access to advanced features.
1000 Watts of Power: Expertly managed output power for precise fish targeting.
TrueColor Display: Provides best-in-class underwater detail and vibrancy.
Patented MBC Lighting System: Illuminates the underwater world with exceptional clarity.
Proudly Manufactured in the USA: Crafted with quality components from around the world.
20-Degree Ice Transducer: Equipped for accurate signal reception.
Portable Shuttle: Convenient for on-the-go ice fishing adventures.
Battery Flexibility: Ready for your battery of choice.
2. M1LR: Elevating Excellence in Ice Fishing
Catering to the most discerning anglers who demand only the best, MarCum proudly presents the M1LR. Priced at $399.99 MSRP, this high-end model comes fully equipped with the MarCum Roamer pack and harnesses the power of lithium fuel. Designed to offer an unparalleled ice fishing experience, the M1LR embodies innovation, precision, and performance. Anglers who seek the pinnacle of technology and performance in their ice fishing endeavors will find their perfect companion in the M1LR.
Simple Interface: Two buttons and two knobs ensure quick and easy operation.
1000 Watts Power: Precision output for accurate fish identification.
TrueColor Display: Immersive underwater visuals with unparalleled detail.
Patented MBC Lighting: Captures the underwater world with exceptional clarity.
Proudly Manufactured in the USA: Crafted using quality components from around the          world.
Compact Portability: Lightest and strongest carry option in its class.
Enhanced Carrying Case: MarCum Roamer case included, offering improved weight, cable management, and gear-carry functionality.
Flagship Battery Included: The M1LR package features MarCum's flagship Brute battery, a 12V10AH LiFeP04 powerhouse, and charger.
The MarCum M1LR represents a quantum leap in compact ice fishing technology, embodying intuitive controls, uncompromising performance, and effortless portability. This innovation is poised to redefine angler expectations and set new industry benchmarks for value and performance.
MarCum's unwavering commitment to quality and innovation is on full display with these new offerings. The expanded M1 lineup showcases the company's dedication to creating cutting-edge technology that enhances the ice fishing experience. From conception to manufacturing, every MarCum M1 is designed, developed, and manufactured right in the heart of the ice belt in New Hope, Minnesota.
For more information on the new M1X, M1LR, and all sonar offerings by Marcum, go to http://www.marcumtech.com.
MarCum Technologies – MarCum Technologies, based in New Hope MN is the industry leader in ice electronics.  Since 2000, MarCum has been devoted to offering angling innovations including GPS, sonar flashers, digital fish finders, underwater cameras, and more. With products made primarily in the USA, MarCum Technologies holds numerous patents and industry exclusive features.  Quality, durability, and innovation are hallmarks of the MarCum brand.  
Note to editors: High-resolution images of the new MarCum M1X and M1LR models are available upon request.