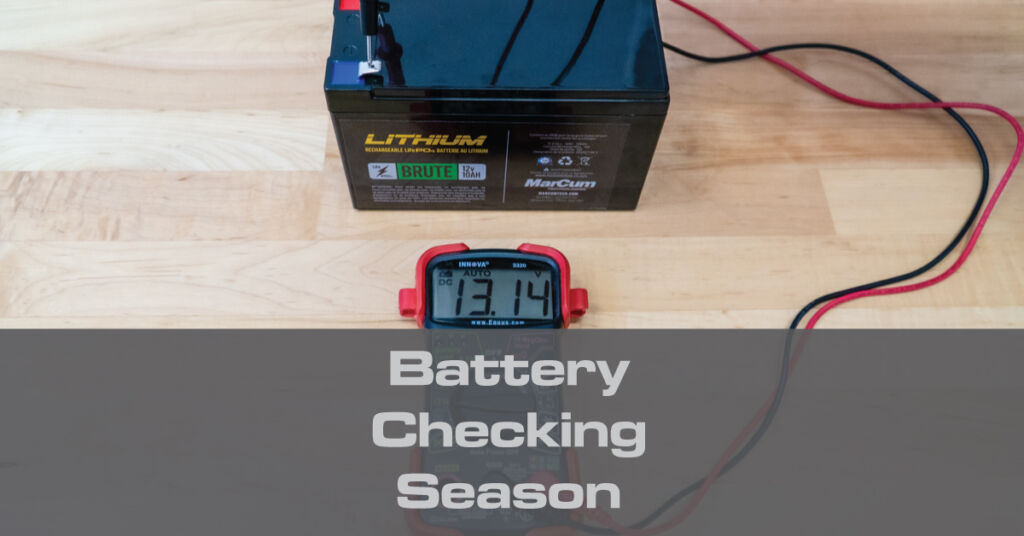 Battery Checking Season
& The Best Flasher Battery Replacement Options
Leaves are gone from the trees, and that's your green light to grab your MarCum flasher or digital system from the garage and get ready for the ice-fishing season.
The first step in your pre-season routine should be checking your batteries. Most flasher failures on the ice are caused by a bad 12v 7ah battery or 12v 9ah battery, so now's the time to inspect your MarCum's power source. "You could be kicking yourself later if you don't take a minute to check everything out now," says MarCum Pro-Staffer, Joel Nelson. "Nothing will wreck a good day of fishing faster than a bad battery, because there's nothing you can do about it out on the ice."
If your flasher will not turn on, or exhibits any of the following symptoms, a bad 12v battery is the most likely culprit:
• Unit turns on, but there are no lights
• Unit turns on, but only works for a short time or screen flickers
• Unit will not mark bottom, with transducer clicking (When doing pre-season prep, the bottom is your floor. When conducting this check, be sure that your transducer is a few feet or more off the ground, and hanging straight down.)
The next step in battery inspection is to ensure that your positive and negative wire leads remain attached securely to the battery and are not starting to bend or break. Then, fully run your battery down and re-charge it.
"If your flasher battery sat unused over a few seasons, it's probably lost some performance hours," Nelson says. "So even if you charge it to what looks like full capacity, it won't hold a charge as long as it used to, and could shut down out there on the ice."
Replacement Time
Once you know it's time to replace a battery, you have two main choices to make: Sealed Lead Acid (SLA) batteries or a 12v Lithium Battery. Below is a quick breakdown of performance, features and price.
At the end of the day, MarCum realizes and embraces the fact that it's actually cheaper to purchase Lithium technology in the long run. It's why MarCum no longer sells or packages SLA batteries in new units. "You can pay now or pay more later," says Nelson. "Why not enjoy half the weight, longer run-times, and a stress-free battery that you don't have to replace until a decade or longer from now?"
If you've had your MarCum for a few years or more, consider buying a replacement battery now – even if you have not yet noticed any performance issues. "It's the cheapest insurance you can have for not ruining a great day on the ice," says Nelson. "Add up your fuel, bait, food, and other gear, and consider that this is only a one-time expense. I started to like running Lithium because it was roughly half the weight, but there are so many more benefits to it," explains Nelson. If you want to know more about the advantages of Lithium power in general, check out this article.
The lineup starts with a 7.5Ah 12V Lithium ion battery called the "Mite" at just over 1lb in weight. Move up to Lithium LiFePO4 technology for just an extra pound or two and $20 with the 12V 10Ah battery called the "Brute." This battery comes standard with the Marcum M3L, M5L, LX7L, LX9L, and MX7. "Both the Mite and the Brute are the best flasher replacement batteries available," explains Nelson.
If you're looking to replace a battery on another unit, or power additional accessories with big power needs, look to the LiFePO4 12V 18Ah battery called the "King" or 12V 30Ah battery called the "Max." Really, there's no power needed on ice that a MarCum battery can't serve.
The airline industry and parcel companies know that Lithium batteries can be dangerous, which is why MarCum has invested so much safety into their batteries. MarCum currently holds the highest 3rd-party independent safety certifications a battery can achieve, and is proud to bring safe power to the forefront of the ice industry. Never worry about a charging fire, melted wires, or flying sparks again.
It's worth noting that you can get Lithium and a whole lot more by checking out MarCum's Lithium Shuttle. Complete with USB charging ports, rod holders, cable management system, adjustable handle and more, the Lithium battery is built-in to the shuttle, offering a feature-laden platform for any ice angler to enjoy Lithium technology.
If you are looking for the best battery for ice fishing, check out this article.