THE BEST BATTERY FOR ICE FISHING:
THE MARCUM LITHIUM SHUTTLE
When it comes to ice fishing, we can never be prepared enough. This includes our fishing tackle, our clothing, and even our electronics.   In fact, our electronics have become a significant part of our fishing experience.  That's why keeping them powered, whether it be our flasher or our phone, makes life easier on the ice.
When ice fishing, our phones not only serve as our mapping unit and camera but also our safety device – allowing us to call for help, check the weather, and safely navigate off the lake when needed.  GoPros allow us to capture those special moments to share with our friends and family. Underwater cameras give us a better look at the life below us, helping us make more informed decisions as anglers.  Then there are our flashers, which are at the core of nearly every ice fishing experience.
The MarCum Lithium Shuttle gives us the ability to power all of these things and more. It does this in one compact, lightweight unit.  Best of all, it's not limited to just MarCum units, but flashers across multiple brands. 
HOW THE LITHIUM SHUTTLE WORKS
The purpose of the Lithium Shuttle is to be an all-in-one solution to powering electronics on the ice.  It's powered by a 12-volt, 12-amp hour Lithium ION polymer battery allowing it to stay powered for up to 40 hours – assuming it's not being used for other things of course.  It's jam-packed with features including extra power ports, a built-in light, and even rod holders.  These extra features truly make it the best all-in-one electronic solution available for anglers on the ice.
LITHIUM SHUTTLE FEATURES

The Lithium Shuttle was built with every angler's need in mind.
From USB ports to rod holders, it assures there is everything needed for a long day on the ice.
The Lithium Shuttle's key features include:
USB Ports

Mounting Brackets
Rod Holders

Built-in Light
Adjustable Handle

Transducer Arm
Power Adapter (for different brands of electronics)
Below we go through some of these features and how they benefit hard-water anglers.
The Lithium Shuttle has 2 USB ports built into the lower right side of the unit.  These two ports have the ability to power nearly anything, from a GoPro to a cellphone – allowing anglers to spend long periods of time on the ice without worrying about their electronics failing.   Since our phones serve as our camera, camcorder, communicator, and gps, it's nice knowing it can stay powered all day long – even during those long days and cold temperatures.
These USB ports also eliminate the need for replacing GoPro batteries – by instead allowing anglers to continuously record the adventure all day long.
Perhaps one of the most unique features of the Lithium Shuttle is its ability to mount numerous electronics across the unit.  For example, it can be used to mount an underwater camera, phone, and GoPro on the unit all at once.  If content creation is key, multiple cameras can be mounted in multiple locations – including over the hole.  For portability, having dedicated places for these types of electronics makes hole hopping a breeze.
The Lithium Shuttle is built with portability in mind.  Not only does it provide anglers with extra power, but it also comes with two-rod holders built into the back of the unit.  This allows anglers to quickly move spots, keeping the electronics and rods in one compact location.
Another key feature of the Lithium Shuttle is the adjustable handle.  Depending on which electronics are mounted, the handle can be adjusted to each angler's setup.  To do this, the side knobs simply need to be loosened and then the height of the handle can be adjusted as necessary. This gives the Lithium Shuttle the flexibility to easily work with different brands of flashers and different accessories.
The Lithium Shuttle comes with a built-in light.  This feature illuminates the hole – while providing light to charge lures and monitor line. Rest assured there will always be available light, even if the headlamp was left behind.
An underrated feature, the transducer arm, keeps the flasher cord out of the way – and the actual puck where you need it to be.  The transducer arm adjusts on two different pivots, giving it plenty of flexibility to reach across different parts of the ice hole.
Finally, the Lithium Shuttle can be recharged fast with its 3-amp hour charger. For those on the go, there is even an optional car charger.  After days of use, the Lithium Shuttle is recharged in merely a few hours.
LITHIUM SHUTTLE ACCESSORIES
Of course with all of these features comes the need for accessories.  We offer multiple options for people looking to get the most out of their Lithium Shuttle unit.
There is a full list of accessories available here.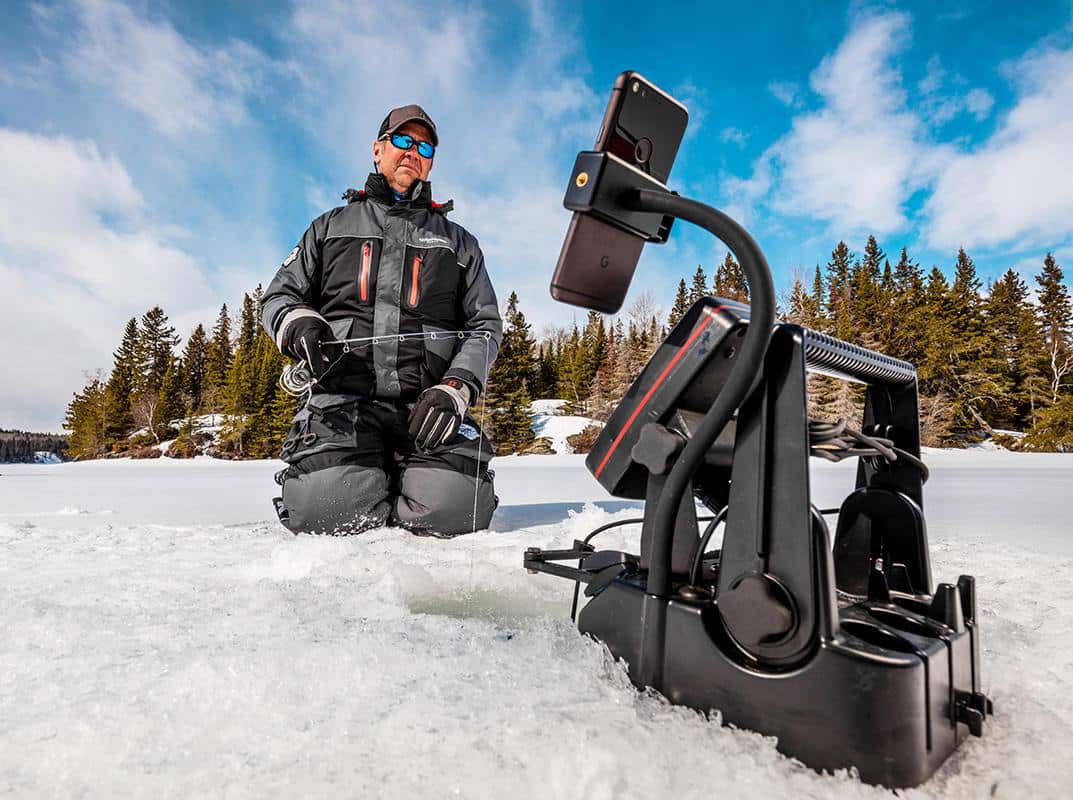 The gooseneck accessories are the perfect complement to the Lithium Shuttle.  Each arm fits into any of the ¼ -20 mounts, allowing for endless possibilities. This accessory can be used to attach a phone (phone mount sold separately), GoPro, point-and-shoot camera, or even an underwater camera.  Multiple gooseneck arms can be mounted at once.
The gooseneck USB light is an attachment that allows for precision lighting. It mounts into one of the USB ports, allowing it to stay powered as needed. It's perfect for those who need more accessible light when tieing knots, charging lures, and checking line.  While the built-in light allows the hole to be illuminated, the gooseneck USB light makes light more accessible.
The phone holder fits on the gooseneck accessory arm, allowing cell phones to be securely mounted next to the flasher.  The holder compresses the phone with intense pressure, assuring it will stay in place.  This allows for easy access to mapping such as Navionics and taking self-portraits when solo fishing. Having the phone mounted on a secure bracket and location is a piece of mind for anglers.
One of the most innovative features of the Lithium Shuttle is the ability to use it with more than one type of flasher. In fact, the power adapter makes the unit compatible with multiple brands, including both Vexilar and Humminbird.  Therefore, with power-intensive units such as the Helix, anglers won't need to carry around an over-sized, sealed lead acid battery any longer.
SO MUCH POWER – SO MANY USES
The benefits of the Lithium Shuttle are endless.  With all of the accessories offered this year, using the lithium shuttle makes it easier than ever to make an efficient ice fishing setup.  A few of the many benefits this unit provides include:
Charging Phones

Mounting Navionics Maps

Taking Self-Portraits

Powering GoPros

Mounting GoPros and Point & Shoot Batteries

Reducing Time Spent Replacing Batteries

Mounting Portable Underwater Cameras

Keeping Underwater Cameras Charged

Charging GPS Units

Providing Additional Light

Adapting to Other Flashers, Such as the Helix Open Water Units

Providing a Lightweight, All-in-One Solution to Run and Gun Fishing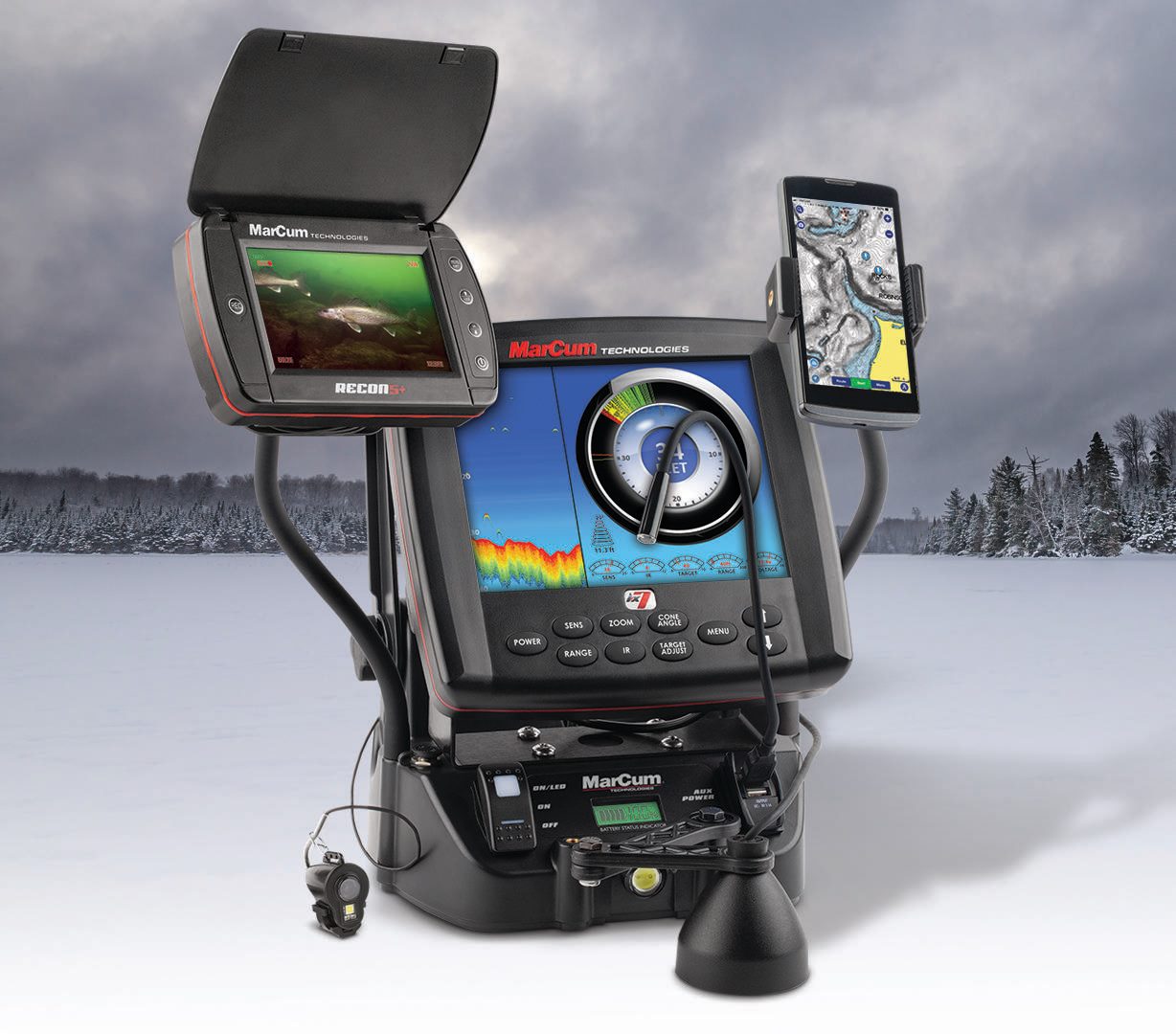 THE LITHIUM SHUTTLE IS
THE ULTIMATE POWER SOLUTION ON THE ICE
As electronics continue to advance in our everyday life, their use in our ice fishing world will continue to advance as well.  That's why a Lithium Shuttle is a perfect unit for any flasher.  It is not only lightweight and portable compared to traditional counterparts, but it also comes with many key features that allow for the highest amount of efficiency for a long weekend on the ice.
Our electronics not only make our everyday life easier but our life on the ice easier as well. Therefore, as our world continues to become more digital, the Lithium Shuttle makes sure we stay powered along the way.
You can find out more about the Lithium Shuttle and it's accessories on our website.