How to Prepare for the
Wisconsin Fishing Opener 2022
It's a magical time of year. The ice on the lakes is pretty much absent. The landscapes that were not so long ago covered in snow now show glimpses of life again. Grass is turning greener, plants are blooming, birds are chirping. Spring has sprung.
To many anglers that means one thing – the Wisconsin Fishing Opener is coming. The Wisconsin Fishing Opener is traditionally on the first Saturday in May. This year it falls on May 7th, 2022. After a few months of being left alone, walleyes, northern pike and many other species are back at the top of anglers' most wanted lists.
Similar to other areas, the Badger State holds a weekend long event known as the Wisconsin Governor's Fishing Opener. The event features a wide range of activities surrounding the state's annual tradition.
Each year a different location is designated as the host for the event. For the 2022 season, and the 56th annual event, Shell Lake in Washburn County will serve as the headquarters. Make sure to get your updated WI fishing license!

regulations prep & CHECKLIST
Wisconsin fishing opener
Being fully prepared and organized can lead to improved success on the water, or at a minimum make for a more enjoyable experience. Hopefully you set aside some time earlier in the season to go over your boat and fishing equipment to make sure everything is in working order. If you've neglected things, fortunately you still have some time. Take a look at the attached checklist to make sure you've got everything in order.
Remember to brush up on the Wisconsin fishing regulations. Wisconsin Department of Natural Resources rules and regulations often change from year to year, especially for popular fishing destinations. Knowing what's allowed and what you can keep will prevent any unexpected consequences from the DNR.
How to Scout for a successful
Wisconsin fishing opener
Setting aside the time to scout prior to the season will improve your odds of success once you hit the water on opening day. Scouting can be achieved via on the water time or from the comforts of home.
Online resources are valuable to any angler looking to have an edge on their fishy adversaries. The internet contains a plethora of information related to fish behavior by season, as well as the optimal techniques for different scenarios. YouTube, fishing publications, and online fishing reports are tools that should be employed by fishermen.
If you know where you're heading for the opener, take the time to do a quick search for any online content related to that body of water, including videos and articles. Read through old fishing reports for that timeframe to see if there are consistent patterns and techniques.
Other online sources, like Navionics ChartViewer, allow an angler to view lake maps from their laptop or mobile device and in turn verify some prime locations. These locations can be added to a MarCum MX-7GPS for on-the-water use.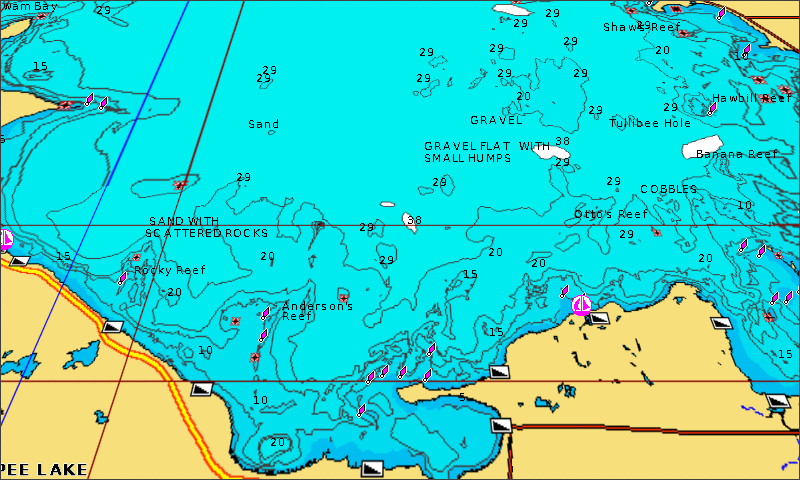 If you're fortunate enough to have time to get out in the boat before opening day, there are a number of factors to take into account. Early in the season, there are some specific aspects that have a greater influence on fish location. These leading influencers include water temperatures, weather conditions, and cover/structure. MarCum Technologies' fleet of underwater viewing systems are proven tools for on-the-water scouting.
Take water temperature, for example, which arguably has the greatest impact on fish location during this early season timeframe. Water temperature plays a big role in fish location and activity, especially during the spawn period.
This typically occurs around within a few weeks of opening day for many fish species. Many of MarCum's underwater viewing systems come standard with built-in temperature sensors. This can help anglers determine water temperature not only at the surface, but also anywhere in the water column. Internal depth sensors can aid anglers in analyzing a pattern of water temperatures based on depth.
Cover and structure also play a role in fish location during this period around opening weekend. Healthy, green vegetation always holds fish no matter the time of year. Early in the season, locating these healthy patches can take some additional recon.
Utilizing an underwater camera, gives an angler the ability to quickly discern what is healthy and what is not. In addition to vegetation, cover, like fish cribs, can act as fish magnets – specifically during this timeframe.
In Wisconsin, man-made fish cribs are found across the state. Traditional sonar is not the most effective tool for verifying if fish are present. An angler can get an immediate view of what's present, and what's not, by dropping an underwater camera down for view.

Another factor to take into account is the overall weather conditions. While weather has an impact on fish throughout the entire season, it can play a huge role in locating fish during the early season. For instance, warmer days can drive fish shallow, while colder days can push them deeper.
The Wisconsin fishing opener is a fantastic time to hit the water. Regardless of what you're targeting, spend some time preparing and scouting. Having the right tools and the right plan of attack can lead to a successful opening weekend.