Mechanical Flasher vs. Digital Sonar,
which is right for me?
MarCum has you covered whether you prefer the proven technology of an ice flasher, or the customization and cutting-edge performance of a digital system.
"There's just no other family of systems on the market that serve the bulk of the ice-fishing public like MarCum," says ice pro Joel Nelson. "Whether you're a shallow, weedy-water bluegill angler from the south of the ice belt, or you fish deep Canadian Shield lakes for walleye and lake trout, there's a perfect MarCum for you."
Nelson, who has fished and filmed across the ice belt for decades, identifies a major advantage MarCum has held for just as long – target separation. "It's what turned me on to MarCum all those years ago. I could see my jig, individual fish and how they reacted to it, all completely separate from the bottom or cover. It was no more than 2 inch thick marks that blind you from the rest of the school of fish," says Nelson.
"I'm not talking about just a school of crappies either, but seeing walleyes tight to bottom is all about target separation," says Nelson, who considers both species a favorite to target all winter. "If I can see my minnow head falling off a spoon, or a euro-larvae getting pulled off a jig in a perch feeding frenzy, I know we're talking about detail that simply translates into catching more fish," offers Nelson.
Mechanical Flashers
MarCum's entire lineup of ice fishing flashers feature best-in-class target separation, from the top-of-the-line units to the entry-level M1. "Say you only hit the ice a handful of times a year, then the M1 just can't be beat feature to feature," says Nelson. "You just can't get target separation, bottom zoom, and a soft pack at that price anywhere else. Period."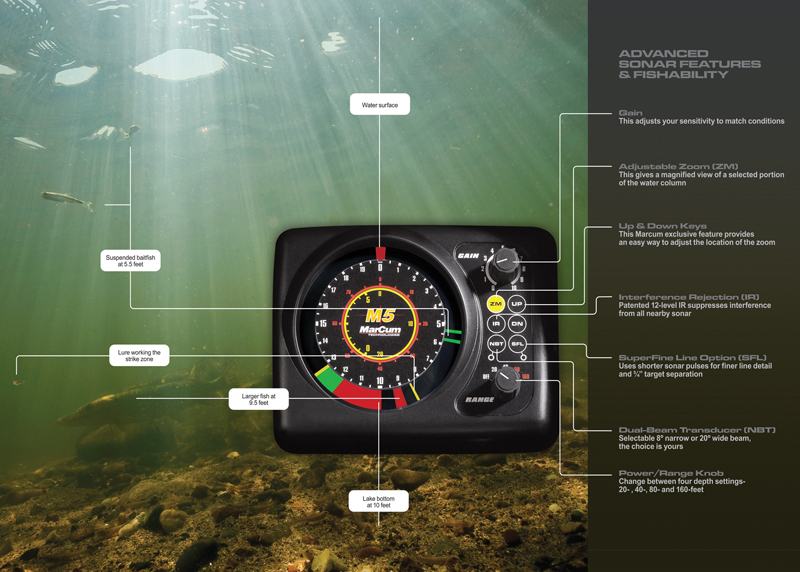 It's rare to see the all-important zoom feature in an entry level ice fishing finder like the M1. With the push of a button, you can focus on the bottom five feet of the water column, expanding the display like zooming in on a photo. Push the button once more, and check out the bottom 10 feet instead; a useful feature especially in deeper water.
Add a button or two more, and you've got the M3L and M5L systems, each with patented technology that's been the best in the business for decades, this year with a 12V10Ah Lithium LiFePO4 battery thrown in for free.
Featuring 1 1/2-inch target separation in default mode and 1-inch target separation in zoom mode, the M3L features fully adjustable zoom, patented 10-level interference rejection, 2,000 watts of power and TrueColor® technology to yield superior resolution and the sharpest, most detailed display attainable.
The most advanced mechanical ice fishing sonar ever built, the Marcum M5L offers 3/4-inch target separation, 2,500 watts of peak-to-peak power, Vivid TrueColor® technology, a precision-tuned dual beam transducer (to switch between 8° and 20° cone angles for deep- and shallow-water use), industry-best interference rejection, and a patented split screen moveable Zoom feature that allows the user to zero-in on any segment of the water column. These features make the M5L the best flasher for ice fishing.
All of MarCum's mechanical sonar for ice fishing are manufactured in the USA and come ready-to-fish, complete with padded carrying case and smart chargers to keep batteries powered all day. Each flasher also features a patented interference-rejection system. "Interference Rejection cleans up multiple returns and signals from other ice sonar, making it easy to fish with a group of anglers on the ice, even right next to each other," Nelson explains.
Digital Flashers
One thing alone establishes ice fishing electronics performance, and that's speed. For ice fishing, before you consider anything else, you have to be real-time, the primary qualification that distinguishes ice sonar from open water technology. Without it, you're tracking behind – you're guessing at bites and reactions made from past inference rather than what's happening immediately below. It's the feature that has made MarCum's digital sonar performance for ice anglers legendary.
While MarCum made a name for itself with flasher sonar technology, the MarCum digital sonar systems took those same principles and created new ways for anglers to look at the underwater environment. Each of MarCum's digital sonar units, the LX-7 L, LX-9 L, and MX-7GPS give anglers multiple display options – water-column vertical, vertical zoom, flasher-dial and traditional horizontal LCD graph.
"With the digital systems, you get to have it your way," says Nelson. "Say you've always liked the scrolling open-water style graph mode, but enjoy zooming in on the bottom," says Nelson. "Get rid of the circular display and maximize the screen to get a huge view of only what you want. Mold the tools to fit the exact scenario and species you're targeting rather than force yourself to fish in a way you don't prefer."
All Marcum digital units feature 1/2-inch target separation, offering more detail than any ice sonar to date. "That extra target separation may not sound like much, but to me it's everything," explains Nelson. "It's the difference between a bluegill breathing on the bait vs. already having it in its mouth, or a walleye getting ready to come off bottom vs. a fish that's in a negative mood and probably can't be coaxed into eating. It's the kind of information that simply catches more fish, and makes you a better ice angler in the process."
Each feature selectable 5-, 10-, 20- and 40-foot zoom windows, Infinitely Adjustable Zoom, Bottom Lock Zoom, a patented 12-level interference-rejection system, a dual-beam transducer (switch between 8-degree and 20-degree cone angles for deep- and shallow-water use) and 4800-watts PtP.
MarCum's double-threat sonar/camera combo, the LX-9L, offers additional benefits, especially for anglers who fish out of permanent, hard-side ice houses. That's because it can simultaneously display live underwater footage from an underwater camera and sonar returns and output that to your ice-house's big-screen TV. A built-in DVR provides screen recording and instant on-screen playback. It can record also to a separate SD card, or via video-out.
MarCum's top-of-the-line sonar with built in GPS combo unit, the MX-7GPS, conquers both the how and where by taking you to the spot on the spot, then helping to catch fish when you get there. With the full Navionics suite of mapping information, the MX-7 goes next-level by bringing you our patented sonar and mapping features, powered by a battery worthy of the technology it fuels. Lithium power is packaged with either the ice-feature-laden Lithium Shuttle, or the MarCum 12V10Ah LiFePO4 battery called the "Brute."