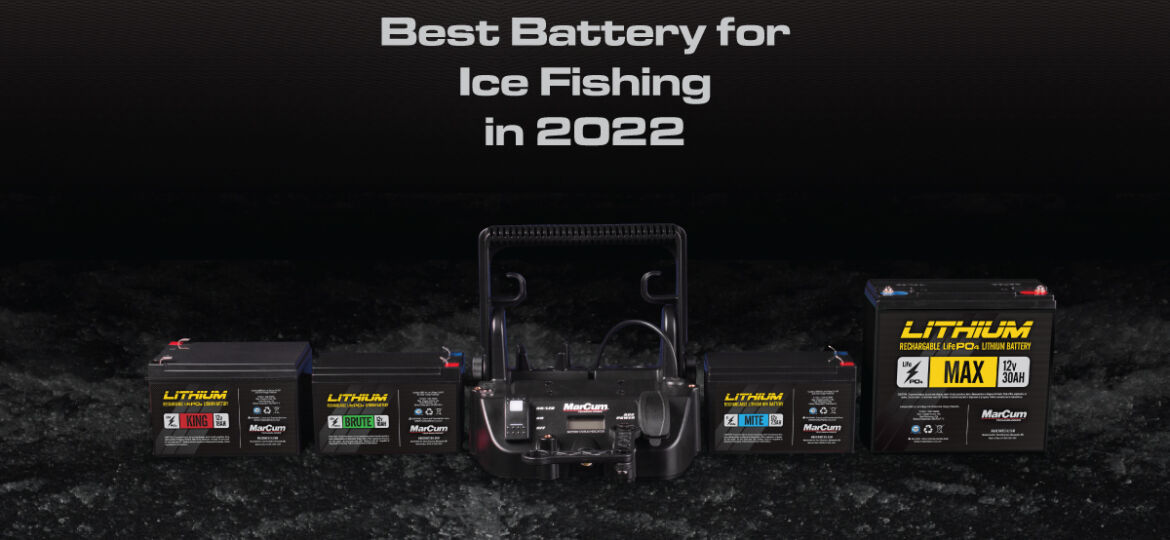 BEST BATTERY FOR
ICE FISHING IN 2022
In general, 12v lithium batteries possess key advantages over SLA batteries, but it's important to know a bit more about the details of each as your power source may be the most notable piece of ice fishing gear you purchase this season. Whether looking to re-power, or upgrade your ice fishing fish finder to a better, longer-lasting, or lighter lithium battery, this article will lead you through the key components to making a good choice.
It's also important to note that the best power source in the world is useless without the right charger. A high performance lithium battery requires a top-end lithium battery charger to optimize battery life. MarCum bundles lithium chargers in a kit with the battery so you're assured you'll be able to maximize the performance of any MarCum battery to its fullest potential in cold weather, knowing it's already paired with the correct charger.
Overall best battery
MarCum Brute – This 12V 10ah battery is our runaway leader for a host of reasons. Possessing LiFePO4 chemistry, and lasting thousands of charge cycles, it just may be the last battery you buy this decade. Perhaps the most compelling case for its top-of-the-heap label, is the fact that it's a universal repower option for all ice fishing electronics. That goes beyond the MarCum brand, and means it doesn't just fit the power requirements of other ice electronics, its form factor and footprint fits in existing shuttle or battery holders, regardless of brand.
Being a true 12v LiFePO4 battery, the Brute has more power than the original equipment supplied with your existing ice electronics, and due to its chemistry has an amplified run-time because of the powerband differences in Lithium vs. lead tech. Again, this means power measured in days, not hours, all while shaving pounds from your current ice fishing sonar or camera. That means more hole-hopping, more searching, and more fish on the ice at the end of the day.

Longest lasting battery of 2022
For some outdoor activities, there's simply never enough power to go around. Enter the MarCum Max; at 12V30AH, it's the largest Lithium LiFePO4 in class, delivering run-times measured in days vs. hours. Whether you camp, kayak, or shelter overnight on-ice, the MarCum Max is the ultimate battery for any long-haul pursuit. Use one battery to power multiple items, including LED lights, additional charging platforms, or personal electronics. There's a multitude of uses for the Max, and if you've ever been concerned about running out of power on ice, this is the battery for you.
LIGHTEST BATTERY OF 2022
The MarCum Mite 12v Lithium Ion battery is a 12V7.5AH featherweight, and at just over a pound is the lightest battery in the MarCum stable. A true Lithium, the MarCum Mite offers an 80% weight reduction over standard SLA options while sporting a form factor that fits readily into any existing system. There's no way on ice to shave as much weight as the MarCum Mitecan with the purchase of a single battery, making it the ultimate in lightweight options no matter what ice electronics you're powering.
BEST BATTERY FOR forward viewing sonar
Ice fishing sonar has always been designed to be portable, while the hallmark of open-water systems has been the fact that they're placed and rigged on a boat. For the latter, that's always meant that power comes from a large deep-cycle battery, and the design of open-water systems has always reflected that. Conversely, the portability requirements of ice systems has always made power consumption a limiting factor for these units, until now.
The MarCum King is another Lithium LiFePO4 option, and at 12V18AH, there's power in the tank for reserve and then some. MarCum realizes that there are certain systems designed for open-water which are also run on ice. These units typically have a higher power draw, and though the King is nothing like a deep cycle battery, it delivers deep cycle performance in a compact, portable form-factor.
best shuttle/battery combo 2022
It's worth noting that this isn't MarCum's first foray into Lithium technology. For the ultimate Lithium experience, we introduced our MarCum Lithium Shuttle years ago, offering anglers a complete shuttle replacement for any manufacturer's sonar. That means that Lithium tech was built into the shuttle, offering anglers an extremely lightweight, onboard power source. However, Lithium is only part of the story on this shuttle, as the unit sports rod racks, 1/4" 20mm mounts, USB charging receptacles, rod racks, cable management clips, and a host of other convenient features. The Lithium shuttle not only makes your time on ice more enjoyable through the weight savings of Lithium Ion technology, it presents key advantages over a singular battery purchase alone.

final thoughts
So what is the best battery for 2022? The long and short of it is that it's the best battery for you and the way you fish. Hopefully you've picked up on the strengths and differences of each kind and this article has given you the tools to make the best purchase you can. We've done the homework for you, now just think about the way you fish most often, and grab the best battery you can to satisfy those needs.
If you want to know more about the advantages of Lithium power in general, check out this article.