The Best Underwater Fishing Camera
for Open Water – 2022
Underwater cameras are undoubtedly one of the greatest technological advancements in the sport of fishing these past few decades. Anglers in recent generations have come to depend on cameras to do far more than help them watch fish eat, but to observe their surroundings, study fish behavior and movements, even learn how fish certain baits better.
Not only then has it been a technology that's useful in its own right, but the simple fact is that underwater viewing has helped push forward the sport of fishing in general. From evolutions in tackle design, reels, and line, to changes in the way we fundamentally fish, looking at the underwater world through a camera is here to stay.
MarCum offers two styles of camera heads that create distinct advantages over other designs, depending on the fishing conditions and style of viewing you'll be doing. The first is a Manta-style, featuring a weighted camera head that has wings protruding to the side.
Pair this with a provided back-fin, and you've got a camera head that glides easily through moving water areas in current, or with the boat in motion while in search mode. The other style features a smaller camera head that's perfect for shallow water, quick-drop scenarios. These stow easily, take up little room, and offer incredible views despite their small size.
Underwater viewing initially started as an ice-only venture, with anglers having more success using older models on a fixed sheet of ice. As technology has changed, so too has the effectiveness of floating in a boat and deploying cameras. That said, each have their own strengths to share, making one the perfect choice in certain scenarios but not in others. We'll break down those cameras and offer some key insights into advantages.
Best Overall Camera
for Open Water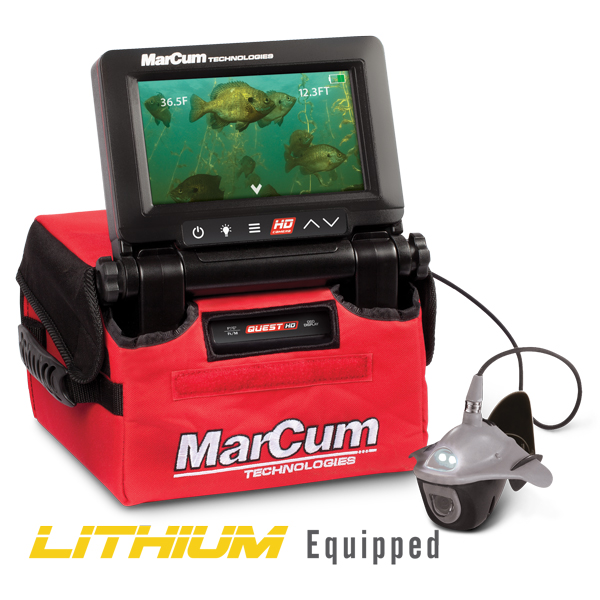 The Marcum Quest HD L has been a dominant player in underwater viewing since its inception. Featuring an ultra-crisp 1080p camera and MarCum Brute 12V10AH Lithium LiFePO4 battery, this camera offers the best resolution, increased run-time, and incredible lightweight performance in a compact unit. Pair that with the brightest display MarCum has ever produced, and you've got an underwater viewing system that stows well in the boat and shines bright in high-sun conditions. Featuring the manta-style head system, the Quest HD L provides plenty of cable for viewing at depth, and glides through the water without rotating while underway. That allows anglers to drop, rotate, and spot fish, or cruise along a weedline to find productive turns and transitions.
Most Fully Featured Camera
for Open Water
Best Camera for Darkwater
Underwater Viewing
Best Value
in Underwater Viewing
Best Compact Camera
For Underwater Viewing

For anglers that rarely use and underwater camera in the boat, but really need it when they do, the MarCum Pursuit HD L checks all the boxes. With a FULL HD image sensor (1920X1080p) and industry-leading display precision, this unit packs a punch in a pocket-sized 5" LCD display. That makes it storable virtually anywhere in the boat, and less of a chore to use all at the same time. Simply unzip the front screen, secure the camera cable and drop for a quick look at anything that requires confirmation. Looking at brush-piles to see how well they hold crappies, or just trying to figure out whether you're targeting walleyes or suckers? The Pursuit HD L offers the most compact, high-quality viewing experience you'll find anywhere.
No matter your species or scenario, underwater cameras can directly improve your fishing on open water, just like they do on ice. Tournament anglers, guides, and fisheries professionals all utilize underwater viewing to learn more and catch more, in a host of open-water situations. Just like any tool, these are highly specialized pieces of technology, so choosing the best camera comes down to selecting the best viewing for your specific application.