How to fish Pool 4 for early spring walleyes
Mississippi River, Pool 4 – Walleye Factory
Minnesota's early May fishing opener is a date most avid walleye anglers have circled on the calendar, but long before May is the pre-opener down on Pool 4 of the Mississippi River. Warm spells in February, all the way through the traditional opening day, offer anglers a great chance at not just knocking the rust off, but catching both numbers and size for walleye and sauger both.
Spawning migrations from the bottom of this unusually large pool, which includes Lake Pepin, offer anglers a legitimate shot at 10 lb. plus fish as they push upstream to perform their spring ritual. It's only fitting then that anglers from several surrounding states make this migration of their own as an early-season pilgrimage to this walleye factory of the north.

Timing
River run walleyes start congregating below the dam in Red Wing throughout the winter months, but the first few thaws in February and March offer anglers a great chance to start targeting them. Walleyes will be caught in the first few miles down from Lock & Dam #3.
This will continue through April and May, until post-spawn females and males both will start dispersing throughout the backwaters and main river channel. Fish spread out after the spawn, sometime in mid-April pending water temperatures, making their way throughout the entire pool and down to Lake Pepin.

Some of the best bites are for pre-spawn females that are working their way up the system and looking for suitable habitat to dump eggs. That puts the March/April timeframe into the spotlight for the chance at a true giant, which can be well short of 28"es, yet still weigh over 10 lbs.
Eventually, males work their way up to those same spawning sites, often simultaneously, offering a chance for anglers to target fish that are concentrated in a smaller stretch of river than they typically are. Given a quick warm-up, females push past those post-spawn blues and start actively biting again as forage becomes abundant again.
The Fishing
If you're a fan of jig-fishing, chances are you'll really like the bite here. In the early part of the spring, anglers use trolling motors to control a slip-drift downstream while vertically jigging over pods of walleyes in the breaks near deeper water. This can involve meat or plastics, with most anglers preferring plastic when it's productive.
As the bite evolves and fish push shallower to look for spawning locations, pitching (shallow-water casting) away from the boat tends to be more productive. Pre-spawn walleyes will eat jig and plastic combinations, with popular shapes being ringworm and shad style baits. There's no better feeling than the slight "tick" of the rod tip or a line-jump as a shallow-water walleye inhales some plastic.

Blade baits have always been popular on Pool 4, offering anglers some positive feedback on the bait via felt vibration to know that it's working correctly. These baits can be vertically jigged in the early season, or pitched more shallow as the spring allows, with pre-spawn fish finding them more easily due to that vibration. Especially in turbid, muddy-water flows, blades can be a way to more easily be found.
Crankbaits are certainly a great way to find fish, but also catch them, with many anglers opting to pull them on 3-way rigs or stackers while "hand-lining." The former involves a simple 3-way swivel with a lead dropper, while the latter has various leaders and several stickbaits tied to a cable with a heavy weight that's dragged behind the boat and operated by hand.
Things to Be Aware of
There are three main access points to the Pool 4 area, with the first being a private landing at Evert's Resort. Being the closest access to Lock & Dam #3, Everts offers a great spot for anglers to quickly launch and get to the fish. The fact that it's nearby current, and the landing is well maintained, Everts also offers some of the earliest launching of the season, allowing anglers to fish in February if they wish.
As temperatures warm, two more options in harbors exist, with the first being just downriver from Everts at Bay Point Park in Red Wing, MN. As a larger landing with two concrete ramps, it gets fairly busy in the spring-time, so have your boat ready to launch to keep the process smooth for other anglers on the go.
Another launch just downriver exists at Colville Park, again in Red Wing. At twice the size, but further from the Lock & Dam, it gets more attention later in the season as fish move their way back downriver. It's important to note that more launches exist, especially as you make your way further downstream to the lake, so make sure to check out public access maps for both the Minnesota and Wisconsin Department of Natural Resources.
Navigation on Pool 4 is much different in this large river with a controlled shipping channel. Barge traffic is notable during certain parts of the season, and all barges should be given a wide berth no matter the fishing circumstances. Learn to read navigational buoys or "cans" as they're called, noting their green and red designators.
To return upriver, simply remember the saying "Red Right Return" so as to keep red cans on your right when navigating upstream. This will keep you at depth and in the center of the channel to avoid wingdams, rock-bars, and other hazards.
That said, in the spring-time, with high water, most of the treachery comes not with hitting bottom, but floating debris or other material coming downstream. Keep that in mind when considering how fast you travel.
Speaking of, know that there are multiple "no-wake" zones both near Bay Point Park, and Colville Park. Look towards shore for signs that indicate when to come off throttle, and when you can run on-plane. Look to the regulations for MN/WI border waters and the 15" walleye minimum and bag limits.

Keys to Success
It's important to fully utilize your electronics on the boat by picking up the summer transducer for your MX-7. The better you understand your electronics the better angler you become and by using it all year long it will help you achieve that. Furthermore, the MX7-GPS accepts Navionics SD cards for enhanced mapping.
The Navionics plus and Platinum plus U.S. North cards will give you detailed mapping of Pool 4 and surrounding areas. Given the complexity of Pool 4 and associated lakes, backwaters, and cuts, use the mapping to your advantage. Pre-plan some areas you expect to hold fish, store them as waypoints, and fish your way through them to eliminate water and find productive areas.
Color selection can be critical to success in this environment, and not just because these can be some heavily pressured fish. Often, color selection has to do with matching water clarity. In clearer, early season fishes, more subdued and natural colors can work well, with higher-flow turbid water making it difficult to see those same colors. At some point, brighter chartreuses, oranges, and even pink hues can make a difference with reflective colors helping on bright days.
Bait can be a part of the story down there, with tough days often being saved by a scoop or two of fatheads. Anglers can drop a simple minnow with a plain-hook behind any kind of sinker, and simply place it long enough in front of fish found with electronics. When the bite is truly tough, working current seam areas off edges or breaks can save the day.
Minnows are also useful during the colder parts of the spring when vertically jigging hair jigs downstream. Focus on keeping those baits completely vertical, using the trolling motor to control your drift with the current to keep heavy jigs straight up and down.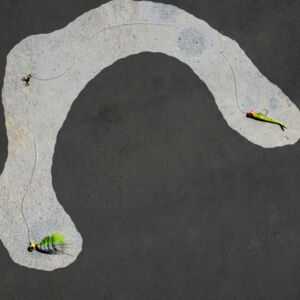 Anglers can fish more than one bait on border waters here, so Miller Rigs and Dubuque Rigs are popular ways to catch fish. These are both variants on the same idea, with the Dubuque Rig utilizing a 3-way swivel, with a heavier dropper jig and plastic, and lighter jig or even plain hook trailing behind tipped with a minnow or plastic.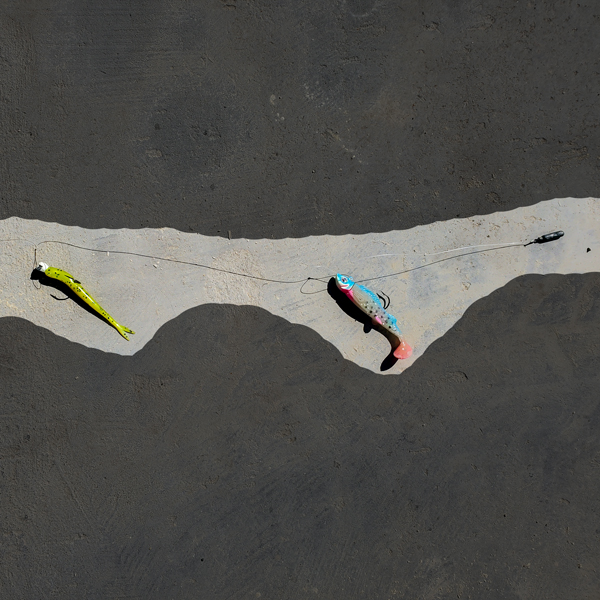 The Miller rig is simply two jigs tied inline on loop knots, evenly spaced 8-12"es apart with a drop-shot like weight at the bottom. Both jigs can be pulled upstream or down, in a trolling motion, and the Miller Rig can be vertically jigged. It's a simple way to put more bait and more looks in front of fish. With enough positive feedback in the form of bites, the fish will tell you what colors, depths, and which baits they prefer.
Whether you're a Pool-4 rookie, or a seasoned veteran, fishing the river can really help jumpstart your open-water season. In fact, many anglers fish the river before the opener, and never leave it again until ice-up.