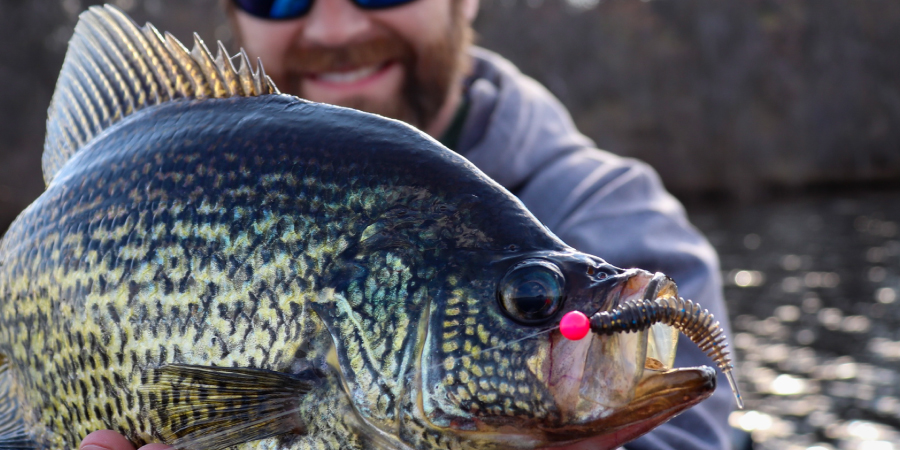 How to find & Catch
Ice-out Spring Crappies
Every year, ice-out brings excitement for a lot of people. It's one of nature's signs that spring has arrived and soon the lakes will be full of life in many forms once again. Boating enthusiasts will now start thinking of getting the boat out of storage and planning the maiden voyage of the year. And anglers eager to fill a live-well know that the crappie are heading for the shallows and it's time to go fishing.
The first movement into the shallows for crappie is typically in pursuit of food (baitfish) that migrate to the warming water. And it doesn't take them very long to find it. Oftentimes small bays open up and can warm well before the entire lake is ice free. The real key is to have stable warming weather to continue to warm the water.
Crappie Will Need Cover
Shallow warm water is usually not enough to keep the big crappie content in the shallows. Any structure, whether it is rocks, weeds, trees, boats, pontoons, docks, shore stations, bridges, brush piles, beaver lodges, or wood will provide cover and protection and allow you to pinpoint where the fish are most likely to be.
The majority of the time they will be finding refuge in and around any type of cover. It will not only give them a sense of security, it will also allow them to ambush baitfish. Minimize your time looking for fish by seeking out the structure of the bay or area you are fishing.
Visibility is super important if you want to be consistently successful in finding and catching early season crappie. Investing in good quality polarized sunglasses can make all the difference in the world. You want to be able to see the structure and cast to it, before getting too close to it.

Where To Go
Small bays, harbors and marinas are gold mines for early season panfish and crappie. As mentioned earlier, these can warm up quickly, especially with several days of direct sunshine. The best bays are the ones that are protected from the main lake.
Bays that are exposed to the main lake can often be suspect to cold water when wind blows across the main lake into the bay. The worst enemies of a successful shallow water crappie fishing trip are extreme cold fronts and big pike.
Early season there is typically poor weed growth which can shrink down the bay to where the fish will be found. Cattails and bulrushes do offer natural cover options. Harbors are usually full of docks and boat lifts that will provide the cover for them.
Being in there first will usually cement your odds of catching a mess of fish. Oftentimes in small harbors there is one sweet spot and a few halfway decent spots. However, you can be handsomely rewarded while sneaking around shallow areas.

Of course the fish can come and go out of these areas throughout the day and the few weeks of early spring. With good polarized glasses you can see them before the trolling motor spooks them out in front of you. As you get close to potential fishing areas, take your time and ease into it ever so slowly.
Turn down the trolling motor speed to limit the output and the noise. Always keep your eyes looking into the direction of travel looking for movement. Sometimes you just see the flick of a tail, sometimes you see the boil from when the fish sped off.
If you notice that there are fish scurrying out of the way as you motor in then slow down and back up. Give the fish a little room and then target them. This is a great time to deploy your shallow water anchors such as Power Poles, drop an anchor or hit spot-lock on your trolling motor. Oftentimes these fish will remain schooled up in the deeper section and you can have a lot of success catching them.
Always keep watching the area and looking for fish. Most of the fish you will see will be at the point where they are a comfortable distance away from the boat. Your casts should be in that vicinity to start out. Long smooth casts are essential.
What To Use?
Because crappie are in the shallows to eat, a lot of things will work to catch them. For those that love using live-bait then small crappie minnows are tough to beat whether using a plain hook or attached to a Gypsy jig.
Bobbers or floats are absolutely essential for this to work. Thill or Northland Lite-bite floats were literally created for this type of fishing. Slip-bobbers or slip-floats allow greater flexibility in setting the depth and also provide better hooksets.
If you prefer to be more active, you can pitch small baits in and around the cover. Tiny tube baits, small twister tails, small swimbaits like the Mimic Minnow Fry, VMC Boottail minnows, tiny crank baits and marabou jigs will all work. Three pound line on an ultra-light rod is a great choice for both castability and for strength to fight fish.

Make sure that your technique closely matches the temperature of the water. Pay attention to the water temperature on your MX7-GPS. In other words, work the baits slowly but steadily through the area.
Don't reel it in so that it just skims underneath the surface, make sure that it is slowly moving through the water column. And don't be afraid to use floats with artificial baits. It is a really effective way to move your bait super slow through an area.
Make a plan to slowly do some shallow water exploration on your next early season crappie trip and you'll also need to plan to go to the grocery store for fish batter.