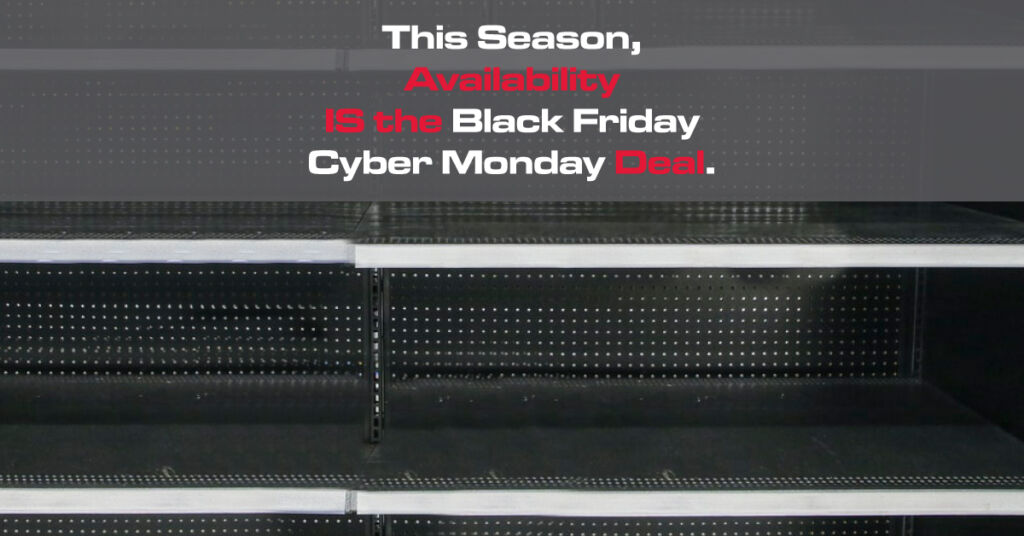 2021 Black Friday/Cyber Monday – Availability IS the deal
If you've tried to make a major purchase in 2021, you've been affected by the global supply chain slowdown. Materials are backordered, shipping is slow, containers held up; there are seemingly more reasons than ever these days for why you can't get at what you're looking to own. To an angler, that's a tough pill to swallow, as so many of our purchases rely on getting us from season to season, from open water to ice, and hopefully will hold out for another year. That is, until they don't, and we need a flasher, camera, or any host of ice accessories that make our time on the hardwater that much better.
That fact in this ice season of all, pits our natural tendency to procrastinate, against the reality we're all seeing – store shelves and online marketplaces are sold rather thin for this time of year. That means you may have to "settle" for something you hadn't intended, but cheer up, the ice scape is looking better than ever before. Due to modern advances in technology, it's tough to own bad sonar these days, and even tougher to own an underwater camera.
Up and down the MarCum lineup, there's best-in-class features to support even the most ardent anglers. This year, all sonar except the best-bang-for-your-buck M1 is equipped with a Lithium LiFeP04 battery as a value-add, meaning the electronics won't cost you more but they'll perform like they were twice the price. The same is true with the camera line-up, so don't fret if you can't find the exact MarCum model you had your eyes on.
That said, without trying to bury the lead, it behooves anglers to understand that ice-show deals, Black Friday blowouts, and Cyber Monday specials may not be available this season. In most years, you can count on that Thanksgiving period to offer specials on what was overbought and undersold the previous year. In other words, it's old inventory that needs to go away, making it easier for a retailer to let it go at ridiculous prices. Yet, during the Covid-19 era, we saw both record participation in the sport, along with a decline in the ability of manufacturers to keep products in stock. A perfect storm if you will. Rising materials and labor costs, shortage of workforce, and shipping increases and delays have been real hurdles that manufacturers face.
The short and long of it for you as an ice angler? If you see something you like, buy it. Availability has become the new deal, in a time where deals have gone cold. Think about it from a brand or retail perspective. What incentive is there to sell something cheap, when it's in-demand, of short-supply, and will sell out regardless? While it may feel like as a consumer, you're losing, and you should sit it out and wait for more favorable pricing come next year, that might not be the right answer.
The hangover-effect of such massive problems in the supply chain will end up costing consumers more in the long run next year. Increased costs across the board mean surely that price increases on your favorite items will likely be a forgone conclusion. That means that although you may not get a 20% discount on your ice gear of choice this season, it'll still be cheaper than next year's price-increased products. That's less-so for MarCum, but simply a reality industry-wide, meaning that this very well could be the year to find it early, buy, and enjoy for years to come.
If availability is the new "deal," then begs the question, where to find availability? Online direct from manufacturer is a good idea if products are in stock, but so it calling and checking with your favorite retailer. Seeing them in person at retail can be nice to twist knobs and push buttons, giving you a feel for the piece of equipment you're about to own. Avoid traveling distance and "expecting" the item to be in, despite stock numbers or a sale price that lists them available. Calling ahead and speaking to a store associate who has one in-hand is always the best way to prevent your time from being wasted.
Nobody loves paying more, finding less, or generally having less options when it comes to gear for our passions like hardwater fishing. Yet, reality is something we all grapple with, and the current state of affairs calls for buying early to get what you need for ice this season. If fishing is your obsession, then this winter requires owning the best despite that environment, and you'll be happier for it in the long run. Now, to decide among the many sonar, camera, battery, and ice accessory products that MarCum makes, which may prove a fun exercise in preparing for first ice which is just around the corner.
If you are in the market for a new Camera this year, Check out this article about the "Best underwater fishing camera for 2021"
If you are in the market for a new Sonar this year, Check out this article about the "Best Ice Fishing Sonar of 2021"
If you are thinking about making the switch to Lithium this Season, Check out this article about the "The Lithium Advantage for Ice Fishing"